The Effect of Preheating Using Microwave, Steam, and Oven on the Quality of Ponorogo Chicken Satay
Keywords:
Ponorogo chicken satay, physical quality, chemical quality, and Polycyclic Aromatic Hydrocarbons (PAHs).
Abstract
This study aims to determine the effect of different preheating methods on the quality of Ponorogo chicken satay. The study used a Nested Completely Randomized Design. The preheating methods used include microwave, steam, and oven with a preheating time of 5 and 10 minutes. The parameters used are physical quality (pH, WHC and cooking loss), chemical quality (moisture, protein and fat content), and Polycyclic aromatic hydrocarbons (PAHs). Data were analyzed using Analysis of Variance (ANOVA), if the results of the analysis obtained data that were significantly different or very significant, it would be continued with Duncan's Multiple Range Test (UJBD) and PAHs analysis of descriptively. The results of statistical analysis showed that the use of different preheating methods had a very significant effect (P<0.01) on pH and fat content had a significant effect (P<0.05) but had no significant effect (P>0.05) on Water Holding Capacity (WHC), cooking loss, moisture and protein content. The duration of preheating in heating method had a significant effect (P<0.05) on WHC and moisture content, but it had no significant effect (P>0.05) on pH, cooking loss, protein and fat content. PAHs content of Ponorogo chicken satay with long heating using microwave (23.35 mg/kg and 5.99 mg/kg), steam (5.48 mg/kg and not detected), oven (8.22 mg/kg and 7.31 mg/kg). The conclusion of this study that the use of preheating method with a long time can reduce the content of Polycyclic aromatic hydrocarbons (PAHs), physical, chemical, organoleptic quality and the best model is obtained in the steam method with a temperature of 97°C.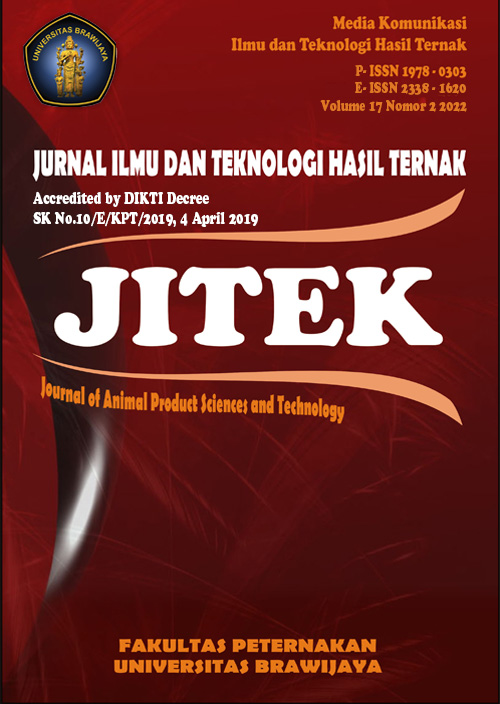 Downloads
License
Authors who publish with this journal agree to the following terms:
Authors retain copyright and grant the journal right of first publication with the work simultaneously licensed under a Creative Commons Attribution License that allows others to share the work with an acknowledgement of the work's authorship and initial publication in this journal.
Authors are able to enter into separate, additional contractual arrangements for the non-exclusive distribution of the journal's published version of the work (e.g., post it to an institutional repository or publish it in a book), with an acknowledgement of its initial publication in this journal.
Authors are permitted and encouraged to post their work online (e.g., in institutional repositories or on their website) prior to and during the submission process, as it can lead to productive exchanges, as well as earlier and greater citation of published work (See The Effect of Open Access).