Pengaruh Penambahan Sari Jamur Tiram Putih (Pleurotus ostreatus) pada Pembuatan Yogurt Drink Ditinjau dari Sifat Mutu Fisik
Keywords:
Yogurt, sari jamur tiram putih, viskositas, daya ikat air, kadar air.
Abstract
Pada sari jamur tiram putih mengandung protein, karbohidrat dan beberapa glukosa, dalam jamur tiram putih juga mengandung ß-glukan. Tujuan dari penelitian ini adalah untuk mengetahui pengaruh penambahan sari jamur tiram putih ditinjau dari viskositas, daya ikat air dan kadar air pada yoghurt drink. Hasil penelitian memberikan informasi tentang penambahan sari jamur tiram putih dalam yoghurt drink. Metode penelitian yang digunakan adalah Rancangan Acak Lengkap (RAL) dengan 4 perlakuan, terdiri dari P0, P1, P2 dan P3, dan 4 ulangan dan dilanjutkan dengan Uji Jarak Berganda Duncan (UJBD). Hasil penelitian menunjukkan bahwa penambahan 3% sari jamur tiram putih memberikan perbedaan sangat nyata (P <0,01) pada viskositas dan kadar air dan memberikan perbedaan yang signifikan           (P <0,05) pada daya ikat air. Berdasarkan analisis penelitian, dapat disimpulkan bahwa penggunaan sari jamur tiram putih dengan konsentrasi hingga 3% dapat meningatkan viskositas dan daya ikat air serta menurunkan kadar air.
References
(AOAC). (2005). Official Methods of Analisys Chemis (Vol 1A). Washington, DC: AOAC,Inc.
Abdul, M. (2008). Physical Properties of yoghurt during storage at 4oC. Jurnal Ilmu Dan Teknologi Hasil Ternak, 3(1), 52–58.
Agarwal, R., & Prasad, J. (2008). A conceptual and operational definition of personal innovativeness in the domain of information technology. Information Systems Research, 9(2), 204–215. https://doi.org/10.1287/isre.9.2.204
Amal, A. M., Eman, A. M. M., & Zidan, N. (2016). Fruit flavored yoghurt: chemical, functional and rheological properties. Journal International of Environmental and Agriculture Research, 2(5), 57–66.
Budiyanto, A., & Yulianingsih. (2008). Pengaruh suhu dan waktu ekstraksi terhadap karakter pektin dari ampas jeruk siam (Citrus nobilis L.). Jurnal Penelitian Pascapanen Pertanian, 5(2), 37–44.
Celik, S., Bakırcı, I., & Şat, I. (2006). Physicochemical and organoleptic properties of yogurt with cornelian cherry paste. International Journal of Food Properties, 9(3), 401–408. https://doi.org/10.1080/10942910600596258
Decker, K. J. (2001). The Dominant Culture: Yoghurt for The Masses. New York: Tata MC Graw Hill Publisher Company.
Fauzi, I. (2015). Pengaruh Penambahan Sari Wortel pada Proses Pembuatan Yogurt Ditinjau Dari Organoleptik, Kadar Air dan Viskositas. Universitas Brawijaya Malang.
Febrisiantosa, A., Priyo Purwanto, B., Isnafia Arief, I., & Widyastuti, Y. (2013). Karakteristik fisik, kimia, mikrobiologi whey kefir dan aktivitasnya terhadap penghambatan angiotensin converting enzyme (ACE). Jurnal Teknologi Dan Industri Pangan, 24(2), 147–153. https://doi.org/10.6066/jtip.2013.24.2.147
Ginting, N., & Pasaribu, E. (2005). Pengaruh temperatur dalam pembuatan yoghurt dari berbagai jenis susu dengan menggunakan lactobacillus bulgaricus dan streptococcus thermophilus the effect of temperature in making yoghurt from various kind of milk, using lactobacillus bulgaricus and streptococcus thermophilus. Jurnal Agribisnis Peternakan, 1(2), 73–77.
Gonçalvez, D., Pérez, C., Reolon, G., & Segura, N. (2009). Effect of thickeners on the texture of stirred yogurt. Alimentos e Nutrição, 9(1), 118–124.
Madora, E. P., Takalani, T. K., & Mashau, M. E. (2016). Physicochemical, microbiological and sensory properties of low fat yoghurt fortified with carrot powder. International Journal of Agricultural and Biological Engineering, 9(1), 118–124. https://doi.org/10.25165/IJABE.V9I1.1874
Setianto, Y., Pranomo, Y., & Mulyani, S. (2014). Nilai pH, viskositas, dan tekstur yoghurt drink dengan penambahan ekstrak salak pondoh (Salacca zalacca). Jurnal Aplikasi Teknologi Pangan, 3(3), 110–113.
Shaker, R., Jumah, R. ., & Abu-Jdayil, B. (2000). Rheological properties of plain yogurt during coagulation process: impact of fat content and preheat treatment of milk. Journal of Food Engineering, 44(3), 175–180. https://doi.org/10.1016/S0260-8774(00)00022-4
Sirotek, K., Slováková, L., Kopecný, J., & Marounek, M. (2004). Fermentation of pectin and glucose, and activity of pectin-degrading enzymes in the rabbit caecal bacterium Bacteroides caccae. - PubMed - NCBI. Letters in Applied Microbiology, 38(4), 327–332.
Utomo, M., Purwadi, & Thohari, I. (2013). Pengaruh Tepung Porang (Amorohallus oncophyllus) Terhadap Kualitas Yogurt Drink Selama Penyimpanan Pada Refrigerator dari TPC, Viskositas, Sinerisis dan pH. Universitas Brawijaya. Malang.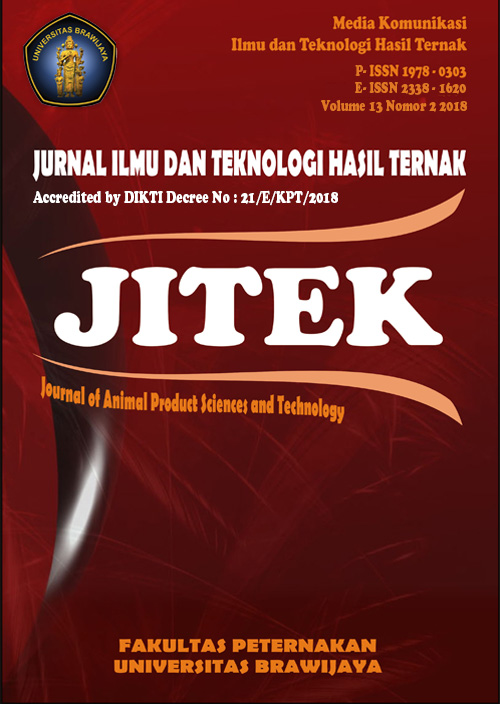 Downloads
License
Authors who publish with this journal agree to the following terms:
Authors retain copyright and grant the journal right of first publication with the work simultaneously licensed under a Creative Commons Attribution License that allows others to share the work with an acknowledgement of the work's authorship and initial publication in this journal.
Authors are able to enter into separate, additional contractual arrangements for the non-exclusive distribution of the journal's published version of the work (e.g., post it to an institutional repository or publish it in a book), with an acknowledgement of its initial publication in this journal.
Authors are permitted and encouraged to post their work online (e.g., in institutional repositories or on their website) prior to and during the submission process, as it can lead to productive exchanges, as well as earlier and greater citation of published work (See The Effect of Open Access).