Sifat Fisik dan Organoleptik Yogurt Drink Susu Kambing dengan Penambahan Ekstrak Kulit Manggis (Garcinia mangostana L.)
Keywords:
Mangosteen peel extract, yogurt, goat milk, color, sensory analysis.
Abstract
The objective of this studies were to determine the physical properties of viscosity and organoleptic of yogurt drink with the suplementation of mangosteen peel extract. The experimental design used was Completely Randomized Design (CRD) of the factorial pattern. The first factor was the difference of mangosteen peel extract level (0%, 3% and 6% v / v), while the second factor was the storage time of yogurt (0, 1, and 2 weeks) with 3 replications. The results showed that the supplementation of mangosteen peel extract on yogurt drink gave significant effect (p <0.05) on viscosity, color and sensory analysis (viscosity and texture). Yogurt drink was recommendation with mangosteen peel extract 3% (74.65cp), lightness (L) 79.89, redness (a*) 0.14 yellowness (b*) 2.32, sensory analysis of viscosity with score 2.84 (moderate viscosity), organoleptics of color 3.52 (white yelowness) and texture test with score 2.12 (moderate smooth). It can be concluded that the addition of mangosteen peel extract can improve the quality of physical, color, organoleptik yogurt drink. The use of mangosteen peel extract will increase the economic value and product diversification.
References
Arazo, M., Bello, A., Rastrelli, L., Montelier, M., Delgado, L., & Panfet, C. (2011). Antioxidant properties of pulp and peel of yellow mangosteenfruits. Emirates Journal of Food and Agriculture, 23(6), 517–524.
Boycheva, S., Dimitrov, T., Naydenova, N., & Mihaylova, G. (2011). Quality characteristics of yogurt from goat's milk, supplemented with fruit juice. Czech J. Food Sci, 29(1), 24–30. Retrieved from http://www.agriculturejournals.cz/publicFiles/35010.pdf
Bulele, A., Pongoh, J., & Reo, A. (2017). Tingkat kesukaan konsumen terhadap ikan cakalang (Katsowonus pelamis L.) asap yang direndam dalam ekstraksi kulit manggis. Jurnal Media Teknologi Hasil Perikanan, 5(1), 113–117. Retrieved from https://ejournal.unsrat.ac.id/index.php/jmthp/article/view/14910
Chaverri, J. P., Rodriguez, N. C., Ibarra, M. O., & Rojas, P. (2008). Medicinal properties of mangosteen (Garcinia mangostana). Food & Chemical Toxicology, 46(10), 3227–3239. https://doi.org/10.1016/J.FCT.2008.07.024
Cossu, M., Pisu, R., Juliano, C. C., & Alamanni, M. C. P. (2009). Effects of enrichment with polyphenolic extracts from Sardinian plants on physico-chemical, antioxidant and microbiological properties of yogurt. Italian Journal of Food Science, 21(4), 447–459.
Damunupola, D. A. P. R., Weerathilake, W. A. D. V, & Sumanasekara, G. S. (2014). Evaluation of quality characteristics of goat milk yogurt incorporated with beetroot juice. International Journal of Scientific & Research Publications, 4(10), 2–5. Retrieved from http://www.ijsrp.org/research-paper-1014.php?rp=P343293
Gupita, C. N., (2012). Pengaruh berbagai pH sari buah dan suhu pasteurisasi terhadap aktivitas antioksidan & tingkat penerimaan sari kulit buah manggis. Universitas Diponegoro, Semarang.
Jaya, F., Kusumahadi, D., & Amertaningtyas, D. D. (2011). Pembuatan minuman probiotik (yoghurt) dari proporsi susu sapi dan kedelai dengan isolat lactobacillus casei & lactobacillus plantarum the making of probiotic drink (yoghurt) from cow s milk & soybean proportion using lactobacillus casei & lactobacil. Jurnal Ilmu & Teknologi Hasil Ternak, 6(1), 13–17. Retrieved from http://jitek.ub.ac.id/index.php/jitek/article/viewFile/166/157
Jung, H.-A., Su, B.-N., Keller, W. J., Mehta, R. G., & Kinghorn, A. D. (2006). Antioxidant xanthones from the pericarp of garcinia mangostana (mangosteen). Journal of Agricultural & Food Chemistry, 54(6), 2077–2082. https://doi.org/10.1021/jf052649z
Kustyawati, M. E., Tobing, S. D., & Trimaryanto. (2012). Profil asam lemak & asam amino susu kambing segar & terfermentasi fatty acid and amino acid profile of fresh & fermented goat milk. Jurnal Teknologi Dan Industri Pangan, 23(1), 47–52. Retrieved from http://journal.ipb.ac.id/index.php/jtip/article/view/5293
Saraswati, D. N & Astutik, S.E. (2011). Ekstraksi zat warna alami dari kulit manggis serta uji stabilitasnya. Fakultas Teknik, Universitas Diponegoro, Semarang.
Shu, G., Li, C., Chen, H., & Wang, C. (2014). Effect of Inoculum and Temperature on the Fermentation of Goat Yogurt. Advance Journal of Food Science and Technology, 6(1),68–71. https://doi.org/10.19026/ajfst.6.3032
Sumarmono, J., Sulistyowati, M., & Soenarto. (2015). Fatty Acids Profiles of Fresh Milk, Yogurt and Concentrated Yogurt from Peranakan Etawah Goat Milk. Procedia Food Science, 3, 216–222. https://doi.org/10.1016/J.PROFOO.2015.01.024
Vinderola, C. ., Costa, G. ., Regenhardt, S., & Reinheimer, J. . (2002). Influence of compounds associated with fermented dairy products on the growth of lactic acid starter and probiotic bacteria. International Dairy Journal, 12(7), 579–589.https://doi.org/10.1016/S0958-6946(02)00046-8
Wahyudi, A dan S. Samsundari. (2008). Bugar dengan Susu Fermentasi. Malang, Indonesia, Universitas Muhammadiyah Malang Press.
Wibawanti, J. M. W., Rinawidiastuti, Arifin, H. D., & Zulfanita. (2018). Improving characteristics of goat milk yogurt drink fortified by mangosteen rind ( Garcinia mangostana Lin .) extract. IOP Conference Series: Earth and Environmental Science, 102, 12008. https://doi.org/10.1088/1755-1315/102/1/012008
Wigagha, S., & Nisa, F. C. (2015). Pengaruh penambahan sari anggur (vitis vinifera l.) Dan lama fermentasi terhadap karakteristik fisiko kimia yoghurt . Jurnal Pangan dan Agroindustri. Jurnal Pangan & Agroindustri, 3(1), 248–258.
Winarno, F.G & Fernandez, L.E. (2007). Susu dan Produk Fermentasinya.Bogor, Indonesia M Brio Press.
Yangliar, F. (2013). As a Potentially Functional Food: Goats' Milk and Products. Journal of Food and Nutrition Research, 1(4), 68–81. https://doi.org/10.12691/jfnr-1-4-6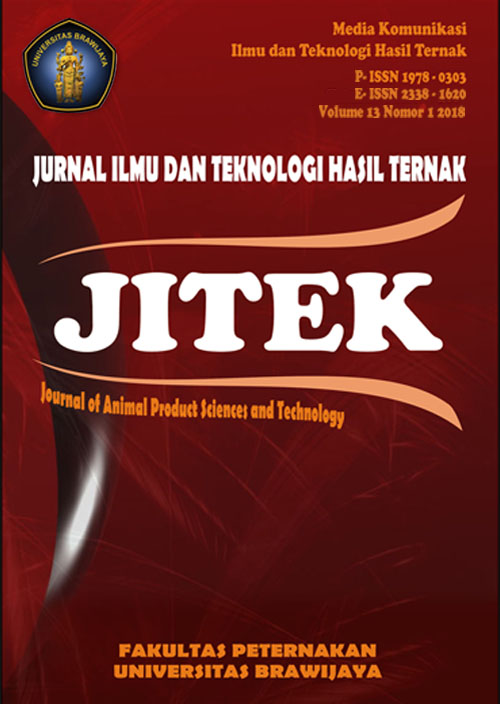 Downloads
License
Copyright (c) 2018 Jeki Mediantari Wahyu Wibawanti, Rinawidiastuti Rinawidiastuti
This work is licensed under a Creative Commons Attribution 4.0 International License.
Authors who publish with this journal agree to the following terms:


Authors retain copyright and grant the journal right of first publication with the work simultaneously licensed under a Creative Commons Attribution License that allows others to share the work with an acknowledgement of the work's authorship and initial publication in this journal.
Authors are able to enter into separate, additional contractual arrangements for the non-exclusive distribution of the journal's published version of the work (e.g., post it to an institutional repository or publish it in a book), with an acknowledgement of its initial publication in this journal.
Authors are permitted and encouraged to post their work online (e.g., in institutional repositories or on their website) prior to and during the submission process, as it can lead to productive exchanges, as well as earlier and greater citation of published work (See The Effect of Open Access).