Pengaruh Penambahan Tepung Sagu Pada Yoghurt Terhadap Viskositas, Overrun, Kecepatan Meleleh dan Total Padatan Es Krim Yoghurt
Keywords:
yoghurt, ice cream, sagu flour
Abstract
The purpose of this research was to find out the best concentration of adding sago flour in yoghurt based on viscosity, overrun, melting rate and total solid of yoghurt ice cream. The experiment was designed by Completely Randomized Design (CRD) using four treatments were 0 %, 2 %, 4 %, 6 % from volume of fresh milk and four replication. The data were analyzed by using Analysis of Variance (ANOVA) and continued by Duncan's Multiple Range Test (DMRT). Result of this research showed that concentration of adding sago flour in yoghurt gave highly significant difference effect (P<0.01) on viscosity, overrun, melting rate and total solid of yoghurt ice cream. It can be concluded that the adding of sago flour 2% in yoghurt gave the best result with the viscosity was 1750.75 cP, overrun was 25.14%, melting rate was 39.13 minutes/50 g, total solid was 36.20% and gave the best quality of yoghurt ice cream.
References
Andarwulan, N., F. Kusnandardan D. Herawati. 2011. Analisis Pangan.
Dian Rakyat. Jakarta
Anonimous. 1995. Es Krim. SNI 01-29811995. Badan Standarisasi Nasional : Jakarta.
_________. 2011. Susu Segar. SNI 3141.12011. Badan Standarisasi Nasional : Jakarta.
Champbell, H. 2000. Ice Cream. Dairy Sciens and Technology on The Internet.www.foodsci.uoguelph.c a/dairyedu/icecream.html. [Diakses pada tanggal 19 Oktober 2015].
Chotimah, S. 2009. Peranan Streptococcus Thermophillusdan Lactobacillus Bulgaricusdalam Proses Pembuatan Yoghurt: Suatu Review. Jurnal Ilmu Peternakan. 4 (2): 47- 52.
Fatimah, F., J. Rorongdan S. Gugule, S. 2012.Stabilitas dan Viskositas Produk Emulsi Virgin Coconut Oil-Madu.Jurnal teknologi dan Industri Pangan. 22(1):75-80.
Goff, H. D. 2002. Ice Cream. Dairy Sciens and Teknology on the Internet. www.foodsci.uoguelph.ca/dairyed u/icecream.html. Diakses pada tanggal 8 Januari 2016.
Hartayanie,L dan B. Adiseno.2006.Karakteristik Fisik dan Evaluasi Sensoris Es Krim Nabati dengan Penggunaan Xanthan Gum, Sodium Alginat dan Carboxy Methyl Cellulose(CMC) sebagai Zat Penstabil. Seminar Nasional PATPI–Yogyakarta.
Jading, A., E. Tethool, P. Payung dan S. Gulton. 2011. Karakteristik Fisikokimia Pati Sagu Hasil Pengeringan Secara Fluidasi Menggunakan Alat Pengering Cross Flow Fluidized Bed Bertenaga Surya dan Biomassa. Reaktor. 13(3):155-164.
Jannah, Y., I. Thohari dan Purwadi. 2013. Penambahan Tepung Porang (Amorphophallus Oncophillus) Pada Es Krim Yoghurt Terhadap Total Plate Count, Tekstur, Rasa, Aroma, Total Padatan, dan pH. Repository Fakultas Peternakan. Universitas Brawijaya. Marshall, R. T dan W.S Arbuckle. 2000. Ice Cream. 5th Edition. Aspen Publisher. New York.
Marshall, R.T., H.D Goffand R.W. Hartel. 2003. Ice Cream. 6th Edition. Plenum Publisher. New York.
Oksilia, M. A. Syafutri dan E. Lidiasari. 2012. Karakteristik Es Krim Hasil Modifikasi dengan Formulasi Bubur Timun Suri (Cucumis melo L.) dan Sari Kedelai. Jurnal Teknologi dan Industri Pangan. 1 (1). 23.
Prawira, I. G. Y. N. 2011. Pengaruh Penambahan Natasimin Terhadap Karakteristik Es Krim Yoghurt Sinbiotik. Departemen Ilmu Produksi dan Teknologi Peternakan Fakultas Peternakan Institut Pertanian Bogor. Bogor.
Puspitasari, R dan A. Rahayuni. 2012. Kandungan Serat, Lemak, Sifat Fisik dan Tingkat Penerimaan Es Krim dengan Penambahan berbagai Jenis Bekatul Beras dan Ketan. Journal of Nutrition Collage. 1(1):301-311.
Wahyunny, H. I., I. Thohari dan L. E. Radiati. 2014. Pengaruh Tingkat Penggunaan Pati Ubi Jalar Cilembu terhadap Kualitas Es Krim Yoghurt Sinbiotik ditinjau dari Viskositas, Overrun, Kecepatan meleleh dan Total Plate Count (TPC).Repository Fakultas Peternakan Universitas Brawijaya. Malang.
Widiantoko, R dan Yunianta. 2014. Pembuatan Es Krim Tempe-Jahe (Kajian Proporsi Bahan dan Penstabil Terhadap Sifat Fisik, Kimia dan Organoleptik).Jurnal Pangan dan Agroindustri. 2 (1): 54-66.
Winarno, F.G.2002.Kimia Pangan dan Gizi. Gramedia Pustaka Utama.
Jakarta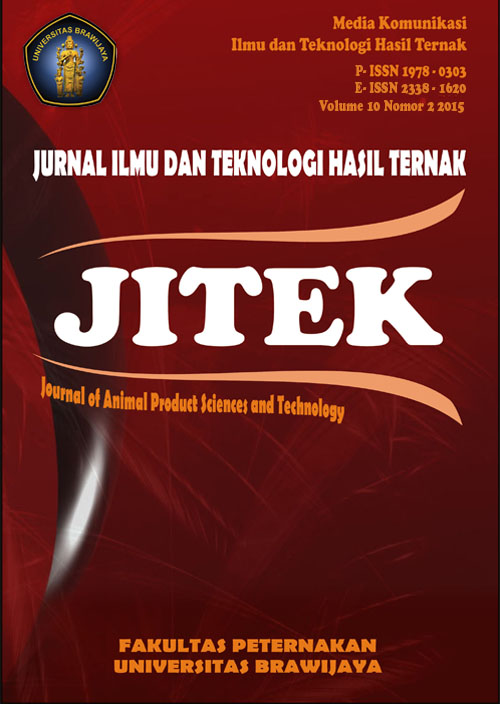 Downloads
License
Authors who publish with this journal agree to the following terms:
Authors retain copyright and grant the journal right of first publication with the work simultaneously licensed under a Creative Commons Attribution License that allows others to share the work with an acknowledgement of the work's authorship and initial publication in this journal.
Authors are able to enter into separate, additional contractual arrangements for the non-exclusive distribution of the journal's published version of the work (e.g., post it to an institutional repository or publish it in a book), with an acknowledgement of its initial publication in this journal.
Authors are permitted and encouraged to post their work online (e.g., in institutional repositories or on their website) prior to and during the submission process, as it can lead to productive exchanges, as well as earlier and greater citation of published work (See The Effect of Open Access).