Pengaruh Umur Pemanenan Madu di Areal Tanaman Kaliandra terhadap Aktivitas Enzim Diastase, Hidroksimetilfurfural (Hmf) dan Keasaman
Keywords:
Chemical properties, kaliandra plant, harvesting age
Abstract
The goal of this study was determine the influence of honey harvesting age in the area of the calliandra plant to diastase enzyme activity, hidroxymetilfurfural (HMF) and acidity. The method of this study was experiments (RAL) with 3 treatments and five replication. The observations of this study were P1 (honey harvested in 11 days), P2 (honey harvested in 14 days), and P3 (honey harvested in 17 days). The variable in this study is the activity of diastase enzyme, hidroxymetilfurfural (HMF) and acidity. Data of this study were analyzed with the Range Analysis (ANOVA), if there is a significant difference between treatments, analysis of data was continued with the Smallest Real Difference Test (BNT). The results of this study showed that the honey harvesting age gave significant effect (p<0.01) on diastase enzymes activities, hidroxymetilfurfural and acidity. As a conclusion, honey harvesting age influences the quality of the activity of the diastase enzyme, hidroxymetilfurfural and acidity. The best content of diastase enzyme, was found in P3 treatment that is generated in 17th day of harvesting with the value 11.12 DN due to it was longer in the nest before harvested. The best content of hidroximetilfurfural was found in P3 with the value 4.48 mg/kg and the best content of acidity honey was found in P3 with the value 28.42 NaOH/kg.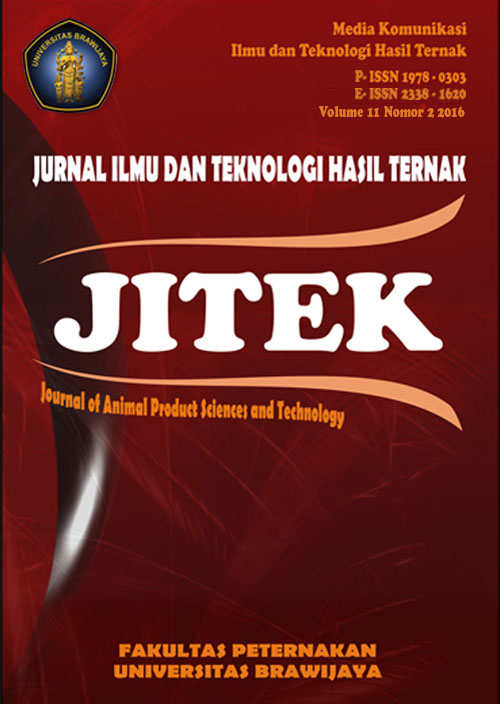 Downloads
License
Authors who publish with this journal agree to the following terms:
Authors retain copyright and grant the journal right of first publication with the work simultaneously licensed under a Creative Commons Attribution License that allows others to share the work with an acknowledgement of the work's authorship and initial publication in this journal.
Authors are able to enter into separate, additional contractual arrangements for the non-exclusive distribution of the journal's published version of the work (e.g., post it to an institutional repository or publish it in a book), with an acknowledgement of its initial publication in this journal.
Authors are permitted and encouraged to post their work online (e.g., in institutional repositories or on their website) prior to and during the submission process, as it can lead to productive exchanges, as well as earlier and greater citation of published work (See The Effect of Open Access).