Pengaruh Masa Panen Madu Lebah pada Area Tanaman Kaliandra (Calliandra calothyrsus) terhadap Jumlah Produksi Kadar Air, Viskositas dan Kadar Gula Madu
Keywords:
Honey bee, the best harvesting time, honey quality
Abstract
The purposes of this research were to investigate the difference of harvesting time on honey production, viscosity, moisture and sugar content, as well as identifying the best harvesting time.The material used in this research was honey from Calliandra plantation. The method used was experimental design using Completely Randomized Design (CRD) with 3 treatments and 5 replications. The treatment consisted of harvesting time on day 11 P1on day 14 P2, and on day 17 P3. Data obtained were analyzed by ANOVA and continued by LSD test. The results showed that the treatments had significantly effect (P<0.01) on honey production, viscosity, water and sugar content. On P1, production obtained was 1.59 L/colony/harvest, while 0.72 and 0,26 from P2 and P3, respectively. Moisture of P1, P2, P3 respectively were 22.02, 21.00, 19.48 %, respectively. Viscosity obtained was 11.43, 18.56, and 33.67 P. Sugar content were 69.46%, 70.59%, and 71.67%, respectively. In conclusion, viscosity and sugar content of honey will increase when it is harvested on day 17, but decrease when it is harvested on day 11. However, harvesting time on day 11 is the best choice for farmer due to highest production obtained, but inadequate of standard of water content, viscosity, and sugar content.
References
Chayati, I. 2008.Sifat Fisikokimia Madu Monoflora dari Daerah Istimewa Yogyakarta dan Jawa Tengah. Agritech 28 (1): 9-14.
Harjo, S. S., L. E. Radiati dan D. Rosyidi. 2014. Perbandingan Madu Karet dan Madu Rambutan
Berdasarkan Kadar Air, Aktivitas Enzim Diastase dan Hidroximetilfurfural (HMF). Repository. Fakultas Peternakan Univeristas Brawijaya. Malang.
Holt, S. H. A., V. de Jong, Brand Miller, J.C. and J. Arcot. 2002. The Glycaemic and Insulin Index Values of a Range of Australian Honeys. Asia Pacific Journal of Clinical Nutrition (Supll) 11: S310.
Muhazan. 2015. Pengaruh Disain Kotak Terhadap Produksi Madu dan Propolis Lebah Trigona di Desa Genggelang Kabupaten Lombok Utara. Skripsi. Fakultas Peternakan Univeristas Mataram.
Nanda, P. B., L. E. Radiati dan D. Rosyidi. 2014. Perbedaan Kadar Air, Glukosa dan Fruktosa pada Madu Karet dan Madu Sonokeling. Repository Fakultas Peternakan Universitas Brawijaya. Malang.
National Honey Board. 2006. Carbohydrate and the Sweetness of Honey.
Novitawati, P. A., S. Minarti dan M. Junus. 2013.Perbandingan Kadar Air dan Aktivitas Enzim Diastase Madu Lebah Apis Mellifera di Kawasan Penggembalaan Mangga (Mangifera Indica) dan Kawasan Penggembalaan Karet (Hevea Brasilliensis). Repository Fakultas Peternakan Universitas Brawijaya. Malang.
Ozcan, M. M and C. Olmez. 2014. Some Qualitative properties of different monofloral honeys. Turkey. Food Chemistry 163 (2014): 212-214.
Putriwindani, R. M. 2011. Analisis Proses Keputusan Pembelian dan Kepuasan Konsumen Madu Pramuka di PT Madu Pramuka Serta Implikasinya terhadap Bauran Pemasaran. Skripsi. IPB-Bogor.
Ratnayani, K., S.N.M.A Dwi Adhi dan I.G.A.M.A.S. Gita Dewi. 2008. Penentuan Kadar Glukosa dan Fruktosa pada Madu Randu dan Madu Kelengkeng dengan Metode Kromatografi Cair Kinerja Tinggi.Bukit Jimbaran. Universitas Udayana. 2(2): 77-86.
Silvia, P. M. D., C. Gauche., L. V. Gonzaga., A. C. O. Costa and R. Fett. 2015. Honey: Chemical composition, stability and authenticity. Brazil. Food Chemistry 196 (2016): 309– 323. SNI 3545:2013. 2013. Madu. Jakarta. BSN.
ICS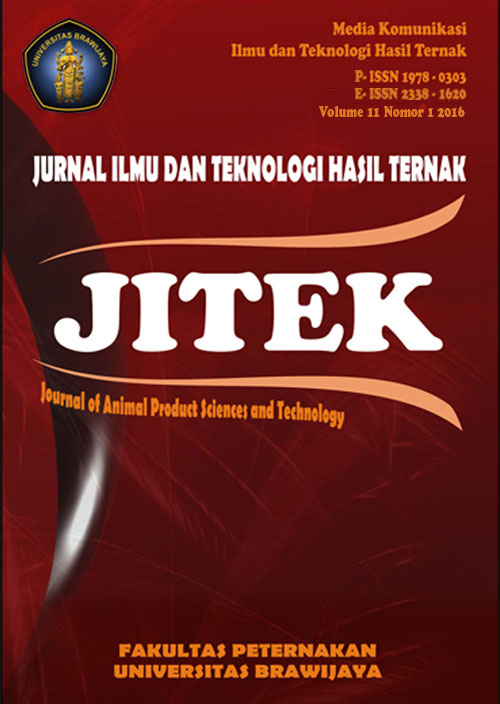 Downloads
License
Copyright (c) 2017 Sri Minarti, Firman Jaya, Pepy Ade Merlina
This work is licensed under a Creative Commons Attribution 4.0 International License.
Authors who publish with this journal agree to the following terms:


Authors retain copyright and grant the journal right of first publication with the work simultaneously licensed under a Creative Commons Attribution License that allows others to share the work with an acknowledgement of the work's authorship and initial publication in this journal.
Authors are able to enter into separate, additional contractual arrangements for the non-exclusive distribution of the journal's published version of the work (e.g., post it to an institutional repository or publish it in a book), with an acknowledgement of its initial publication in this journal.
Authors are permitted and encouraged to post their work online (e.g., in institutional repositories or on their website) prior to and during the submission process, as it can lead to productive exchanges, as well as earlier and greater citation of published work (See The Effect of Open Access).