Carcass And Wholesalecut Production Of Brahman Cross (BX) Heifer
Abstract
This research aims to determine the quantitative characteristics of Brahman cross heifer cattle's carcass and wholesale cut at different age levels. The number of heifer cattle taken as samples was 104 heifer. The research method used is a case study with the selection of locations by purpose sampling. Direct observation is used to obtain information on age, slaughter weight, carcass weight, wholesale cut weight, and parts thereof (primary, secondary, and manufacturing cut). The data obtained were then analyzed by analysis of variance (ANOVA). If there was a significant difference, it is followed by a further test of the Least Significant Difference (LSD). The results showed that the age levels in slaughter had a significant effect (P<0.05) on the slaughter weight, fresh carcass weight and wilted carcass weight, but had no effect on the percentage of carcass and wholesale cut. The older the age of cattle and the longer the cattle are raised, the higher their body weight will affect the slaughter weight produced, and the higher the slaughter weight, the higher the carcass weight made. Average slaughter weight at different age by Permanent Incisor (PI): PI0 (<18 months), PI2 (18-24 months) and PI4 (24- 36 months). While the average percentage of heifer carcass at different age levels was relatively the same (52,71% : 53,04% : 53.10%). The weight and rate of wholesale cut and its parts are also somewhat the same. The research results show that the slaughter age affects the slaughter weight and carcass weight but not dressing percentage and wholesale cut weight. Brahman cross heifer cattle at PI4 produced optimal carcass weight and wholesale cut.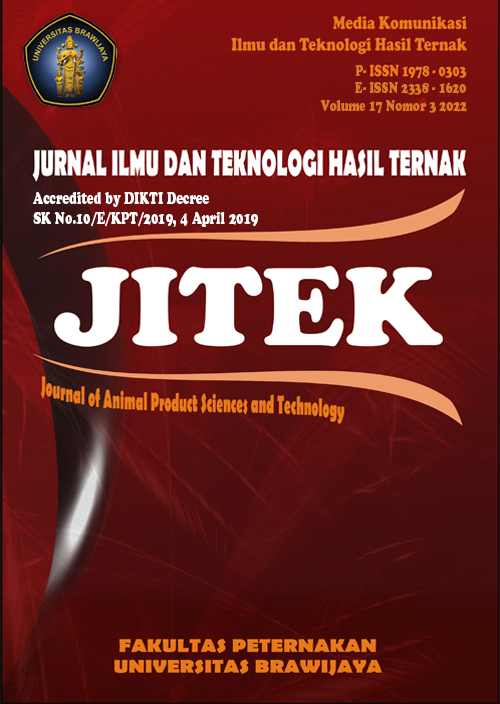 Downloads
License
This work is licensed under a Creative Commons Attribution 4.0 International License.
Authors who publish with this journal agree to the following terms:
Authors retain copyright and grant the journal right of first publication with the work simultaneously licensed under a Creative Commons Attribution License that allows others to share the work with an acknowledgement of the work's authorship and initial publication in this journal.
Authors are able to enter into separate, additional contractual arrangements for the non-exclusive distribution of the journal's published version of the work (e.g., post it to an institutional repository or publish it in a book), with an acknowledgement of its initial publication in this journal.
Authors are permitted and encouraged to post their work online (e.g., in institutional repositories or on their website) prior to and during the submission process, as it can lead to productive exchanges, as well as earlier and greater citation of published work (See The Effect of Open Access).