Characterization and Production of Goat Milk Kefir-Peptide on Triglyceride Synthesis of Cell Model of 3T3-L1
Keywords:
Anti-oxidant, Fermentation, Obesity, Proteolytic Activity
Abstract
Goat milk kefir (GMK) refers to fermented products, generated through fermenting milk with microbial culture called kefir grains. Prior studies have reported the changes in kefir quality properties during aging process in which fermentation continues, resulting in changes of the peptide content. This research aims to investigate the effect of aging time on GMK–peptide characteristics to inhibite triglyceride syntheses on cells model of 3T3-L1. In this study, GMK were stored at 4 ± 1 oC for 0, 2, 4, 6 and 8 weeks, respectively. The protein profile was characterizedby implementing SDS-PAGE. The result of experiment indicated no protein degradation during the 6 weeks of aging period particularly for high molecular weight at 84 kDa, 80 kDa and 65 kDa. The GMK-supernatant from 8 weeks storage was performed by applying ultrafiltration membrane cut off < 30 kDa (UFC8 030.08). GMK-filtrate fractions (GMK-peptide) was collected as peptides. After 8 weeks of aging period, kefir protein profile was found to consist of peptide fractions and amino acid. The proteolytic activity of kefir grain increased linearly along with aging time (0-8 weeks). During aging period, the proteolytic activity of grain kefir released peptides and amino acid. In particular, the antioxidant activities were found significantly different (p<0.05) during aging periods. The antioxidant activities of GMK-peptide increased along with the elevating peptide concentration, from 3.30 % to 55.73%, with derivate by GMK-peptides of 2.75 – 10.39 mg/ml. Obesity associated with adipocyte hypertrophy occurred when TG accumulation.GMK-peptide of 100 mg/ml indicated the lowest TG level (2.00 ± 0.03 mg/dl). This finding was in line with the inhibition of TG synthesis (61.14 ± 3.26 %). However, GMK-peptide contained antioxidant potency due to may be corelated with decreasing TG synthesis.The study thus suggested the important role of kefir to prolong aging in generating higher peptide bioactive as antioxidant and inhibition of TG synthesis of cell model of 3T3-L1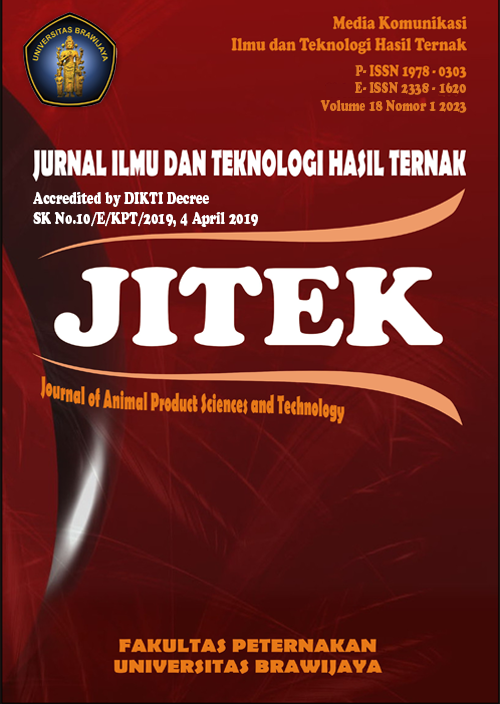 Downloads
License
Copyright (c) 2023 Dian Laksamana Hati
This work is licensed under a Creative Commons Attribution-NonCommercial 4.0 International License.
Authors who publish with this journal agree to the following terms:


Authors retain copyright and grant the journal right of first publication with the work simultaneously licensed under a Creative Commons Attribution License that allows others to share the work with an acknowledgement of the work's authorship and initial publication in this journal.
Authors are able to enter into separate, additional contractual arrangements for the non-exclusive distribution of the journal's published version of the work (e.g., post it to an institutional repository or publish it in a book), with an acknowledgement of its initial publication in this journal.
Authors are permitted and encouraged to post their work online (e.g., in institutional repositories or on their website) prior to and during the submission process, as it can lead to productive exchanges, as well as earlier and greater citation of published work (See The Effect of Open Access).