Optimization of East Java Propolis Extraction as Anti SARS-Cov-2 by Molecular Docking Study
Keywords:
alkaloid, antioxidant activity, propolis, SARS-CoV-2, TMPRSS2
Abstract
The purpose of this research is to obtain the optimum propolis extraction method using microwave extraction so as to produce anti-SARS CoV-2 compounds. The research method used was experimental with a completely randomized factorial design consisting of 2 factors namely extraction time and power level, 9 treatments and 3 replications. The extraction using microwave assisted extraction was carried out according to treatment factors, namely low power level (A1), medium (A2), high (A3) and the length of treatment time was 10 minutes (B1), 20 minutes (B2), and 30 minutes (B3). The results of statistical analysis showed that the interaction between the two had a high significant effect (p<0.01) on the alkaloid content which is ranged from 0.665 to 1.452 mg/g and had no effect on color L*a*b* and antioxidant activity which is ranged from 1.533 to 1.553. The percentage of hexadecane in East Java propolis extract was 0.280 %, octadecane was 0.775%, and pentacosane was 6.716%. The results of druglikeness analysis showed that hexadecane, octadecane and pentacosane compounds had potential as antivirals with a probability to be active value of 0.68. The binding affinity value produced by enzalutamide as a native ligand is -6.7 kcal/mol while the highest inhibitory value is octadecane and pentacosane of -5.9 kcal/mol and followed by hexadecane at -5.8 kcal/mol. The conclusion of this research is that the most optimal extraction method using microwave assisted extraction is done with a medium microwave power level for 30 minutes in terms of the alkaloid content and antioxidant activity produced. This method is able to produce extracts with good antiviral bioactive components, although the binding affinity has not been able to exceed the native ligand's ability in terms of the molecular docking approach.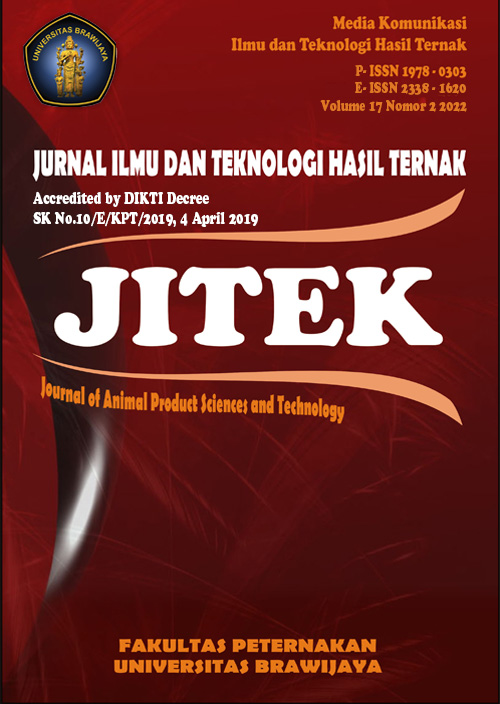 Downloads
License
Copyright (c) 2022 Sofia Aulia Hidayat, Agus Susilo, Khothibul Umam Al Awwaly, Miftakhul Cahyati
This work is licensed under a Creative Commons Attribution-NonCommercial 4.0 International License.
Authors who publish with this journal agree to the following terms:


Authors retain copyright and grant the journal right of first publication with the work simultaneously licensed under a Creative Commons Attribution License that allows others to share the work with an acknowledgement of the work's authorship and initial publication in this journal.
Authors are able to enter into separate, additional contractual arrangements for the non-exclusive distribution of the journal's published version of the work (e.g., post it to an institutional repository or publish it in a book), with an acknowledgement of its initial publication in this journal.
Authors are permitted and encouraged to post their work online (e.g., in institutional repositories or on their website) prior to and during the submission process, as it can lead to productive exchanges, as well as earlier and greater citation of published work (See The Effect of Open Access).