The Functional Properties of Rabbit Skin Gelatin Compared to Commercial Gelatin and Its Application in Jelly Candy
Keywords:
Gelatin, rabbit skin, jelly candy
Abstract
Rabbit skin can be utilized as an ingredient in gelatin making. Gelatin can be used in jelly candy. The study aims to compare the functional properties of rabbit skin gelatin and commercial gelatin in gel strength, viscosity, and ash content and to determine the different test and hedonic test of jelly candy. This study used the t-test with 2 treatments and 8 replications. The rabbit skin gelatin was prepared using hydrochloric acid solution. The commercial gelatin is gelatin from cowhide (Gelita bronze gelatin). The results showed that P1 (rabbit skin gelatin) and P2 (commercial gelatin) were not different on gel strength, however, there was a difference on viscosity and ash content. The difference test on jelly candy state that there was a significant difference between rabbit skin gelatin jelly candy and commercial gelatin jelly candy. The hedonic test on jelly candy gave no difference on texture, flavor, taste, and overall, except there was a difference on color. The color of jelly candy with rabbit skin gelatin is a cloudy white, while jelly candy with commercial gelatin is a clear white. Both jelly candies can be distinguished and accepted by the panelist.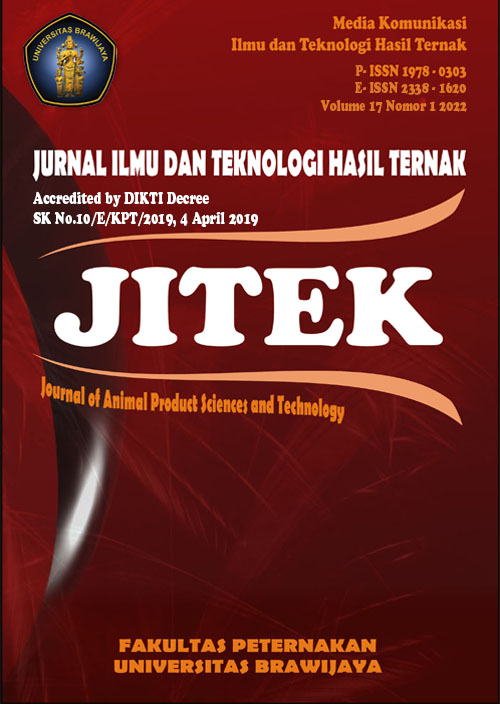 Downloads
License
Authors who publish with this journal agree to the following terms:
Authors retain copyright and grant the journal right of first publication with the work simultaneously licensed under a Creative Commons Attribution License that allows others to share the work with an acknowledgement of the work's authorship and initial publication in this journal.
Authors are able to enter into separate, additional contractual arrangements for the non-exclusive distribution of the journal's published version of the work (e.g., post it to an institutional repository or publish it in a book), with an acknowledgement of its initial publication in this journal.
Authors are permitted and encouraged to post their work online (e.g., in institutional repositories or on their website) prior to and during the submission process, as it can lead to productive exchanges, as well as earlier and greater citation of published work (See The Effect of Open Access).