The Use of Pineapple Fruit in Batting Process on the Chemical Properties of Sheepskin Using Shorfloat Tanning
Keywords:
Batting, bromelain, sheepskin
Abstract
Batting is the process of removing globular and non-collagen proteins. Bromelain can be found in all parts of the pineapple plant (Ananas comosus L.) with different amounts and properties. Bromelain can be used as a batting agent in the tanning process. The purpose of this study was to determine the effect of the bromelain enzyme concentration used during the protein removal process on the quality of sheepskin. This research used 30 sheets of sheepskin obtained from abattoir in Yogyakarta City and pineapple fruit's flesh. The experimental design used was a completely randomized design. The research uses different concentrations of pineapples fruit's flesh (T1 0,5%, T2 1%, T3 1,5% and T4 2% w/w) with feliderm (T0). Statistical analysis using one-way analysis of variance and in accordance with the statistical model. The results of this study showed in dissolved protein content was T0 0.83%, T1 0.77%, T2 0.68%, T3 0.82% and T4 0.85%, protein content of batting skin was T0 19.17%, T1 17.90%, T2 18.37%, T3 21.35% and T4 21.50%, protein content of leather was T0 59.69%, T1 59.27%, T2 60.34%, T3 61.59% and T4 63.25%, fat content was T0 15.31%, T1 14.61%, T2 15.19%, T3 15.36% and T4 16.25%, chromium content was T0 2.60%, T1 2.67%, T2 2.78%, T3 2.82% and T4 3.00% and shrinkage temperature was T0 92.330C, T1 95.670C, T2 93.670C, T3 96.330C and T4 97.330C. The results for pineapple juice showed potency to be used as batting agent for sheepskin. The minimum amount of pineapple juice added for batting the sheepskin is 1% (w/w).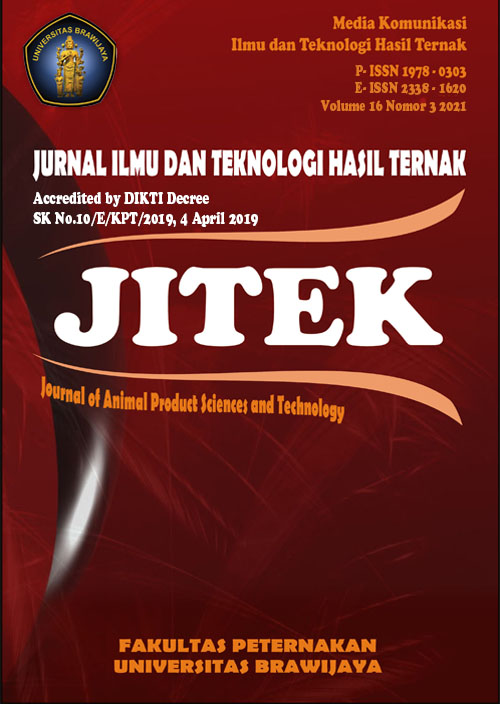 Downloads
License
Copyright (c) 2021 Roselini Agustia Andini, Mustakim Mustakim, Imam Thohari
This work is licensed under a Creative Commons Attribution-NonCommercial 4.0 International License.
Authors who publish with this journal agree to the following terms:


Authors retain copyright and grant the journal right of first publication with the work simultaneously licensed under a Creative Commons Attribution License that allows others to share the work with an acknowledgement of the work's authorship and initial publication in this journal.
Authors are able to enter into separate, additional contractual arrangements for the non-exclusive distribution of the journal's published version of the work (e.g., post it to an institutional repository or publish it in a book), with an acknowledgement of its initial publication in this journal.
Authors are permitted and encouraged to post their work online (e.g., in institutional repositories or on their website) prior to and during the submission process, as it can lead to productive exchanges, as well as earlier and greater citation of published work (See The Effect of Open Access).