Antibiotic Residues and Microbial Contamination in Animal-Derived Foodstuffs in Pontianak City, Indonesia
Keywords:
Antibiotic, microbial contaminants, animal-derived food, hygiene, sanitation
Abstract
Nowadays, demand for foods of animal origin is not limited in terms of quantity, but also the quality, nutritional value and safety for human consumption. Animal-derived foodstuffss can contain biological and chemical hazards through a contamination process. The aim of this study was to detect antibiotic residues and microbial contaminants in animal-derived foodstuffs, i.e. chicken meat, eggs, beef and pork. Samples were collected from different traditional markets (Flamboyan, Mawar, Kemuning and Dahlia) in Pontianak city, Indonesia. Antibiotic residues in foodstuffs were detected using the bioassay method against 4 classes of antibiotics (aminoglycoside, macrolide, penicillin and tetracycline), while the tested microbial contaminants included total plate count (TPC), Escherichia coli, Coliform and Salmonella sp.. Data obtained were analyzed using descriptive statistics. The results showed that antibiotic residues were only detected in chicken products. In chicken meat, 3 (60%) samples tested positive for tetracycline, while in chicken eggs, 3 (60%) and 5 (100%) samples tested positive for aminoglycoside and penicillin, respectively. As per the SNI 7388:2009, of the analyzed samples, 12 (100%) chicken meat, 6 (75%) beef and 5 (100%) pork samples exceeded the limit for TPC; 5 (41.67%) chicken meat and 5 (100%) pork samples exceeded the limit for both coliform bacteria and E. coli; and 7 (58.33%) chicken meat and 3 (37.5%) beef samples were positive for Salmonella. In conclusion, considerable levels of microbial contamination were detected in chicken and beef products in Pontianak city.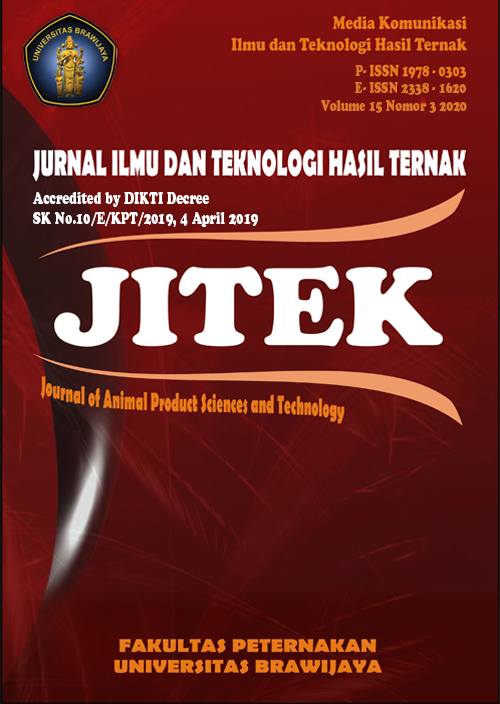 Downloads
License
Authors who publish with this journal agree to the following terms:
Authors retain copyright and grant the journal right of first publication with the work simultaneously licensed under a Creative Commons Attribution License that allows others to share the work with an acknowledgement of the work's authorship and initial publication in this journal.
Authors are able to enter into separate, additional contractual arrangements for the non-exclusive distribution of the journal's published version of the work (e.g., post it to an institutional repository or publish it in a book), with an acknowledgement of its initial publication in this journal.
Authors are permitted and encouraged to post their work online (e.g., in institutional repositories or on their website) prior to and during the submission process, as it can lead to productive exchanges, as well as earlier and greater citation of published work (See The Effect of Open Access).