Potensi Tepung Wortel (Daucus carrota L.) dalam Meningkatkan Sifat Antioksidan dan Fisikokimia Sweet Cream Butter.
Keywords:
Carrot, butter, antioxidant, physical properties, chemical properties
Abstract
This study aims to determine the effect of addition powder carrot as antioxidant agent to antioxidant activity, fat content, mositure, cholesterol, pH value and melting point of sweet cream butter. The method used was experiment laboratory. The materials used were sweet cream butter and carrot powder and the treatments were the addition of carrot powder 0% (A), 2% (B), 4% (C), and 6% (D) then analyzed about antioxidant activity, fat content, mositure, cholesterol, pH value and melting point of sweet cream butter. The data were analyzed by ANOVA using the basic design of Block Randomized Design (BRD) and continued by Duncan's Multiple Range Test (DMRT) if there was a significantly different. Finding suggested an effect of the addition carrot powder could improve the quality (up to 42.55%) of sweet cream butter which is 6% of carrot powder give the best treatment.
References
Ali, N. B. V., E. Rahayu dan H. Sunarjono. 2003. Wortel dan Lobak. Penebar Swadaya. Bogor.
Apriandi, A. 2011. Aktivitas antioksidan dan komponen bioaktif keong ipong- ipong (Fasciolaria salmo). Skripsi. Institut Pertanian Bogor. Bogor.
Bianda, A, C. 2013. Karakter fisik kimia dan organoleptik mentega probiotik dari susu kambing yang diperkaya serat serta antioksidan. Skripsi. Fakultas Peternakan. Institut Pertanian Bogor. Bogor.
Astuty, A. D. K. 2015. Aktivitas antioksidan dari ekstrak wortel (Daucus carota L.) pada minyak kacang tanah. Thesis. Fakultas Matematika dan Ilmu Pengetahuan Alam. Universitas Negri Yogyakarta. Yogyakarta.
Codex Alimentarius Commission. 2011. Draft Revised Standard For Butter. Uruguay.
Dewan Standarisasi Nasional. 1995. Standar Nasional Indonesia 01-3744-1995. Syarat Mutu Mentega. Jakarta.
Estiasih, T. dan Ahmadi, K. (2009). Teknologi Pengolahan Pangan. Jakarta: PT. Bumi Aksara. Hal. 236-237.
Garbutt J. 1997. Essentials of Food Microbiology. London: Arnold Pr
Gaur, D., K. Jain, Y. S. Sisodia dan V. Bajapai. 2012. Estimation of Extracellular Lipolytic Enzyme Activity by Thermophilic Bacillus sp. Isolated From Arid and Semi- arid Region of Rajasthan India. Journal of Microbiology, Biotechnology and Food Science 2 (2), 619-633.
Gunstone, F. D. 2004. The Chemistry of Oils and Fats: Sources, Composition, Properties and Uses. Blackwell Publishing. Oxford.
Hernani dan M. Raharjo. 2005. Tanaman Berkhasiat Antioksidan. Penebar Swadya. Jakarta.
Herrmann. 2001. The Royal Society of Chemistry. Inhaltsstoffe von Obst und Gemüse. Verlag Eugen Ulmer, Stuttgart. Pp 95-98.
Jamaluddin, R. Molenaa dan D.Tooy. 2014. Kajian Isotermi Sorpsi Air Dan Fraksi Air Terikat Kue Pia Kacang Hijau Asal Kota Gorontalo. J. Ilmu dan Teknologi Pangan, Vol. 2 No. 1. Universitas Sam Ratulangi. Manado.
Rahardjo, S. 2004. Kerusakan Oksidatif pada Makanan. Pusat Studi Pangan dan Gizi Universitas Gadjah Mada, Yogyakarta.
Steel, R. G. D and J. H. Torrie. 1991. Principles and Procedure Of Statistic a Biometrical Approach. 2nd Edition Mc Graw-Hill International Book Co. London.
Shalini. S. 2012. Natural Antioxidant. International Journal of Phytotherapy. India.
Silalahi, J. 2006. Makanan Fungsional. Penerbit Kanisius : 85-89. Yogyakarta.
Ketaren, S. 2008. Pengantar Teknologi Minyak dan Lemak Pangan. Cetakan Pertama. Universitas Indonesia Press. Jakarta.
Koswara, S. 2009. Teknologi Pengolahan Susu. EbookPangan.com.
Kumalaningsih, S. 2006. Antioksidan Alami-Penangkal Radikal Bebas, Sumber, Manfaat, Cara Penyediaan dan Pengolahan. Surabaya: Trubus Agrisarana.
Nugraheni, M. 2010. Bahan Ajar Pengetahuan Bahan Pangan Jurusan Pendidikan Teknik Boga Dan Busana Fakultas Teknik Universitas Negeri Yogyakarta. Yogyakarta.
Jin, L. 2012. Phenolic Compound and Antioxidan Activity of Bulb Extract of Six Lilium Species Native to China. China.
Widjaya, C. H. 2003. Peran Antioksidan Terhadap Tubuh. Healthy Choice. Edisi IV. Jakarta.
Winarno, F. G. 1992. Kimia Pangan dan Gizi. Gramedia Pustaka Utama, Jakarta.
Yuanita, L. 2006. Oksidasi asam lemak daging sapi dan ikan pada penggunaan natrium tripolifosfat: Pemasakan dan penyimpanan. Jurnal Ilmu Dasar 7, (2) 194-200.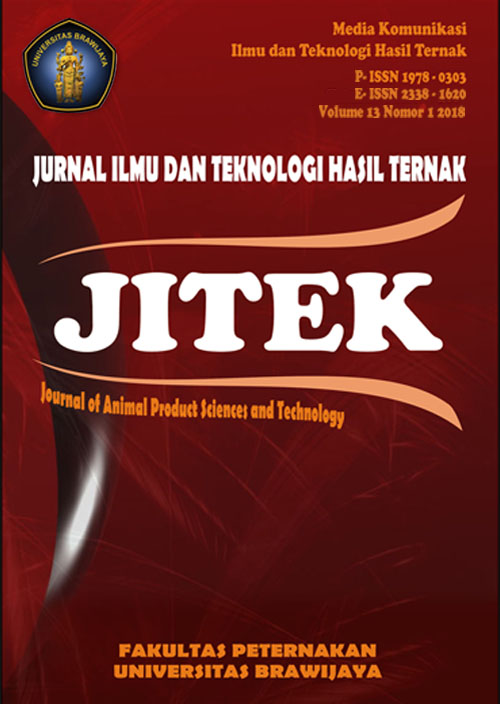 Downloads
License
Copyright (c) 2018 Rebeka Patricia Sianturi, Salam Ningsih Aritonang, Indri Juliyarsi
This work is licensed under a Creative Commons Attribution 4.0 International License.
Authors who publish with this journal agree to the following terms:


Authors retain copyright and grant the journal right of first publication with the work simultaneously licensed under a Creative Commons Attribution License that allows others to share the work with an acknowledgement of the work's authorship and initial publication in this journal.
Authors are able to enter into separate, additional contractual arrangements for the non-exclusive distribution of the journal's published version of the work (e.g., post it to an institutional repository or publish it in a book), with an acknowledgement of its initial publication in this journal.
Authors are permitted and encouraged to post their work online (e.g., in institutional repositories or on their website) prior to and during the submission process, as it can lead to productive exchanges, as well as earlier and greater citation of published work (See The Effect of Open Access).