Pengaruh Level Protein Pakan pada Masa Pertumbuhan terhadap Penampilan pada Awal Peneluran Ayam Betina Hasil Persilangan Ayam Kampung Jantan dan Ayam Ras Petelur Betina
Keywords:
Protein level, Performance, Onset of lay, Egg components
Abstract
This research aims to examine the effects of various dietary protein levels during growing period crossbreed hens between cockerel native chickens and laying hens on performance at onset of lay. The effects of the dietary protein levels on weight and other components of eggs were also examined. Eighteen hens aged thirteen weeks were randomly divided into three different treatment groups. Each group consists of six replications. The replication contains a hen. All the treatment hens were grown in a battery-cage until reaching sexual maturity then were fed with three different dietary protein levels which are 13,54%, 12,00%, and 9,80% formulated with 2600 kcal/kg ME. The collected data were analyzed by a one-way classification of variance analysis (CRD) followed by testing the significant means using The Duncan,s MultipleRange Test (DMRT). The experiment result suggested that the treatment during hen's growing period did not cause significance on performance at onset lay, egg weight, and egg components weight.
 
References
Amrullah. (2003). Nutrisi Ayam Petelur. Satu Gunung budi. Bogor.
Astuti, M. (1980). Rancangan Percobaan & Analisis Statistik. Bagian Pemuliaan Ternak, Fakultas Peternakan UGM. Yogyakarta.
Boorman, K. N. (1980). Dietary Constraints on Nitrogen Retention. Protein Deposition in Animals. Butterworths. London, Boston, Sydney, Wellington, Durban, Toronto.
Bowmaker, J. E., & Gous, R. M. (1989). Quantification of reproductive changes and nutrients requirements of broiler breeder pullets at sexual maturity. British Poultry Science, 30(3), 663-675. http://dx.doi.org/10.1080/00071668908417189
Deschepper, K., & de Groote, G. (1995). Effect of dietary protein, essential & nonâ€essential amino acids on the performance and carcase composition of male broiler chickens. British Poultry Science, 36(2), 229–245. https://doi.org/10.1080/00071669508417772
Hiramoto, K., Muramatsu, T., & Okumara, J. (1990). Effect of methionine & lysine deficiencies on protein synthesis in the liver and oviduct and in the whole body of laying hens. Poultry Science, 69(1), 84–9. https://doi.org/10.3382/ps.0690084
Iskandar, S. (2007). Tatalaksana Pemeliharaan Ayam Lokal. Dalam : Keanekaragaman Sumber Daya Hayati Ayam Lokal Indonesia. Pusat Penelitian Biologi, LIPI. Bandung.
Kompiang, I. P., Togatorop, M., & Jarmani, & S. (2001). Kinerja ayam kampung dengan sistem pemberian pakan secara memilih dengan bebas. Jurnal Ilmu Ternak dan Veteriner, 6 (2), 94-101.
Muryanto. (2005). Evaluasi Hasil-Hasil Penelitian dan Pengembangan pada Ayam Buras. Prosiding Lokakarya Nasional Inovasi Teknologi Pengembangan Ayam Lokal. Pusat Penelitian dan Pengembangan Peternakan. Bogor.
Penz J. A. M., & Jensen, L. S. (1991). Influence of protein concentration, amino acid supplementation, & daily time to access to high- or low-protein diets on egg weight & components in laying hens. Poultry Science, 70(12), 2460–6. https://doi.org/10.3382/ps.0702460
Salim, E. (2013). Ayam Kampung Super. Lily Publisher. Yogyakarta.
Sudarmono, A. S. (2007). Pedoman Pemeliharaan Ayam Ras Petelur. Kanisius. Yogyakarta.
Sulandari, S., Zein, M. S. A., Paryanti, S. T. Sartika, M. Astuti, T. Widjastuti, E., Sudjana, S., Darana, I., Setiawan & Garnida., D. (2007). Sumberdaya Genetik Ayam Lokal Indonesia. Prosiding Seminar Keanekaragaman Sumber Daya Hayati Ayam Lokal Indonesia : Manfaat dan Potensi. Pusat Penelitian Biologi, Lembaga Ilmu Pengetahuan Indonesia. Bandung.
Summers, J. D. (1993). Influence of prelay treatment and dietary protein level on the reproductive performance of white leghorn hens. Poultry Science, 72 (9), 1705-1713. https://doi.org/10.3382/ps.0721705
Suprijatna, E., & Natawihardja, D. (2014) Pengaruh taraf protein dalam ransum pada periode pertumbuhan terhadap performan ayam ras petelur tipe medium saat awal peneluran. Journal of the Indonesian Tropical Animal Agriculture, 29 (1), 33-38.
Suprijatna, E., Mahfudz, L. D., & Saputra, D. H. (2006). Pengaruh level protein ransum saat pertumbuhan terhadap efisiensi penggunaan protein dan performan awal peneluran pada ayam arab. Journal of the Indonesian Tropical Animal Agriculture, 31 (2), 111-116.
Trisiwi. H. F. (2010). Pengaruh kalsium pakan terhadap kualitas kerabang dan penggunaan kalsium ayam arab. Jurnal Agrisains, 11 (2), 74-79.
Trisiwi. H. F. (2014). Penampilan Ayam Kampung Single Comb Terpilih dengan Suplementasi Asam Amino Esensial pada Pakan Berprotein Rendah. Jurnal Agrisains, 5 (2), 137-147.
Wahju, J. (1985). Ilmu Nutrisi Unggas. Gadjah Mada Universitisi Unggas. Gadjah Mada University Press. Yogyakarta.
Zhang, Y., Herro , D. R., & Parsons, C. R. (1993). Effect of crystalline lysine and methionine intake on amino acid excretion by precision-fed cockerels. Poultry Science Journal, 72(6), 1180-1183. https://doi.org/10.3382/ps.0721180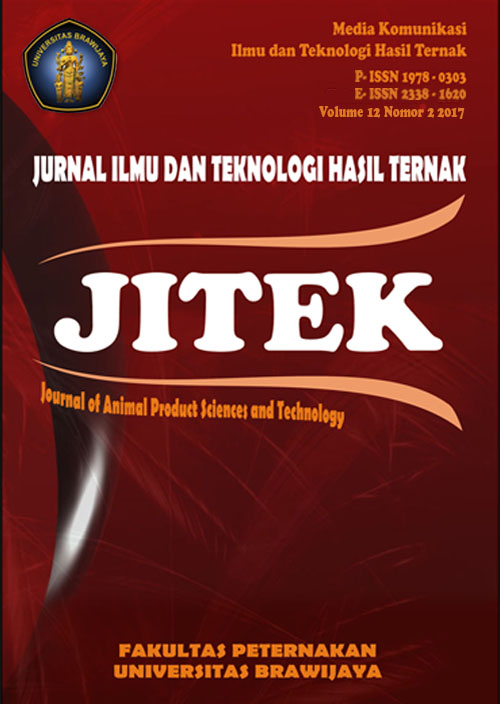 Downloads
License
Copyright (c) 2017 Harimurti Februari Trisiwi
This work is licensed under a Creative Commons Attribution 4.0 International License.
Authors who publish with this journal agree to the following terms:


Authors retain copyright and grant the journal right of first publication with the work simultaneously licensed under a Creative Commons Attribution License that allows others to share the work with an acknowledgement of the work's authorship and initial publication in this journal.
Authors are able to enter into separate, additional contractual arrangements for the non-exclusive distribution of the journal's published version of the work (e.g., post it to an institutional repository or publish it in a book), with an acknowledgement of its initial publication in this journal.
Authors are permitted and encouraged to post their work online (e.g., in institutional repositories or on their website) prior to and during the submission process, as it can lead to productive exchanges, as well as earlier and greater citation of published work (See The Effect of Open Access).