Pengaruh Gum Arab Pada Minuman Madu Sari Apel Ditinjau Dari Mutu Organoleptik, Warna, pH, Viskositas, dan Kekeruhan
Keywords:
Apple cider honey drink, arabic gum, pH, viscosity, and turbidity
Abstract
Apple concentrated honey drink was modified product from fresh honey with apple concentrated to increase the taste, but there was aglutination because of pectin and tannin in apple concentrated and needed stabilizer as gum arabic. The purpose of this research was to find out the best consentration of gum arabic on apple concentrated honey drink in terms of taste, arorganoleptic (taste and aroma), color (L*, a*, b*), pH, viscosity, and turbidity. The treatments were without gum arabic (P0); gum arabic 0.05% (P1); gum arabic 0.1% (P2); and gum arabic 0.15% (P3). The method of this research was experiment with Completely Randomized Design (CRD) by using 4 treatment and 4 times replication. The data were analyzed by ANOVA and would be continued by Duncan's Multiple Range Test (DMRT). The result of this research showed that consentration of gum arabic gave highly significant different effect on aroma, pH, viscosity, and turbidity, gave significant different effect on yellowness (b*), and gave no different effect on taste, lightness (L*) and redness (a*). Conclusion of this research was the adding of gum arabic 0.15% (P3) on apple concentrated honey drink gave the best quality of apple concentrated honey drink for taste 4.54±0.65, aroma 6.00±1.01, lightness (L*) 21.73±0.43, redness (a*) 9.78±0.76, yellowness (b*) 5.68±0.80, pH 6.68±0.13, viscosity 1.112±0.003 cP, and turbidity 165.13±1.55 NTU.
References
Aprillia, D. dan W. H. Susanto. 2014. Pembuatan Sari Apel (Mallus sylvestris Mill) dengan Ekstraksi Metode Osmosis (Kajian varietas apel dan lama osmosis). Jurnal Pangan dan Agroindustri 2 (1): 8696.
Imeson, A. 2010. Food Stabilisers, Thickeners, and Gelling Agent. Blackwell Publishing Ltd.
Isyuniarto dan A. Purwadi. 2007. Pengaruh Penggunaan Oksidan Ozon dalam Pengemas Plastik Polietilen untuk Menyimpan Buah Apel Manalagi (Malus sylvestris M). GANENDRA X (1): 13-18.
Laaman, T. R. 2011. Hidrocolloids in Food Processing. Blackwell Publishing Ltd. and Institute of Food Technologists. ISBN: 978-0-81382076-7.
Mayani, L. 2014. Pengaruh Metode Pengecilan Ukuran Jahe dan Rasio Air terhadap Sifat Fisik Kimia dan Organoleptik pada Pembuatan Minuman Sari Jahe Merah (Zingiber officinale var. Rubrum). Universitas Brawijaya. Malang.
Novelina, S dan Efrina. 2005. Studi Pembuatan Minuman dari Daun Lidah Buaya (Aloe vera) dengan Penambahan Penstabil Terhadap Mutu Produk. Fakultas Teknologi Pertanian Unand
Nugroho, E. S., S. Tamaroh, dan A. Setyowati. 2006. Pengaruh Konsentrasi Gum Arab dan Dekstrin Terhadap Sifat Fisik dan Tingkat Kesukaan Temulawak (Curcuma xanthorhiza roxb) madu instan. Logika 3 (2). 1-7
Prabandari, W. 2011. Pengaruh Penambahan Berbagai Jenis Bahan Penstabil Terhadap Karakteristik Fisikokimia dan Organoleptik Yogurth Jagung. Universitas Sebelas Maret. Surakarta.
Sari, E. K. N., B. Susilo, dan S. H. Sumarlan. 2012. Proses Pengawetan Sari Buah Apel (Mallus sylvestris mill) secara Non-termal Berbasis Teknologi Oscilllating Magneting Field (omf). Jurnal Teknologi Pertanian 13 (2): 78-87.
Susrini. 2003. Pengantar Teknologi Pengolahan Susu. Fakultas Peternakan UB. Malang
Sutardi, S. Hadiwiyoto, dan C. R. N. Murti. 2010. Pengaruh Dekstrin dan Gum Arab Terhadap Sifat Kimia dan Fisik Bubuk Sari Jagung Manis (Zeamays saccharata). J. Teknol.
dan Industri Pangan 21 (2): 102-107.
Tamaroh, S. 2004. Usaha Peningkatan Stabilitas Nektar Buah Jambu Biji (Psidium guajava l) dengan Penambahan Gum Arab dan CMC (Carboxy methyl cellulose). Logika 1 (1): 56-64.
Widiantoko, R. K. dan Yunianta. 2014. Pembuatan Es Krim Tempe-Jahe (Kajian Proporsi Bahan dan Penstabil Terhadap Sifat Fisik, Kimia, dan Organoleptik). Jurnal
Pangan dan Agroindustri 2 (1): 5466.
Williams, P.A. and G.O. Phillips. 1998. Handbook of Gum Arab. North East Wales Institute. Wrexham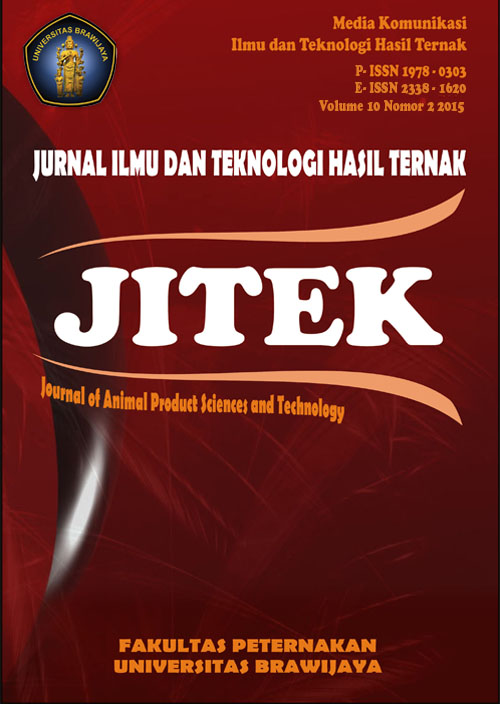 Downloads
License
Authors who publish with this journal agree to the following terms:
Authors retain copyright and grant the journal right of first publication with the work simultaneously licensed under a Creative Commons Attribution License that allows others to share the work with an acknowledgement of the work's authorship and initial publication in this journal.
Authors are able to enter into separate, additional contractual arrangements for the non-exclusive distribution of the journal's published version of the work (e.g., post it to an institutional repository or publish it in a book), with an acknowledgement of its initial publication in this journal.
Authors are permitted and encouraged to post their work online (e.g., in institutional repositories or on their website) prior to and during the submission process, as it can lead to productive exchanges, as well as earlier and greater citation of published work (See The Effect of Open Access).