Pengaruh Penambahan Sari Lengkuas Merah (alpinia purpurata k. Schum) dan Lama Simpan Telur Asin Terhadap Total Mikroorganisme, Aktivitas Antioksidan, Aktivitas Air dan Tekstur
Keywords:
salted egg, red galangal, total microorganism, antioxidant activity, water activity, texture
Abstract
The purpose of this research was to determine the best concentration of red galangal extract and different storage in salted egg in terms of total microorganism, antioxidant activity, water activity and texture of egg salted. The materials were duck's egg, water, salt, and red galangal extract. The method of this research was experiment with Nested Design by using two factors, namely concentrations of treatment were P0 (0%) and P1 (40%) and storage period were H0 (Day 0), H5(Day 5), H10 (Day 10), H15 (Day 15) by using five times replication. The result showed that the the addition of red galangal exract 40% gave the best result and quality of salted egg total organism 3.418, antioxidant activity 125.960 mg/g, water activity in albumen 0.949, water activity in yolk 0.931, texture in albumen 6.86, texture in yolk 11.19 with the best storage was period 0 days.
References
Aznam, N. 2004. Uji Aktivitas Antioksidan Ekstrak Kunyit (Curcuma domestika, Val.). Prosiding Semnas Penelitian, Pendidikan dan Penerapan MIPA. Hlm: 111-117.
Budiman, A., H. Hintono dan Kusrahayu. 2012. Pengaruh Lama Penyangraian Telur Asin Setelah Perebusan Terhadap Kadar Nacl, Tingkat Keasinan Dan Tingkat Kekenyalan. Jurnal Animal Agriculture, 1(2) : 219227.
Fajriati, I. 2006. Optimasi metode penentuan tannin. Jurnal Kaunia. 2(2) : 107-120.
Froning, G. W., D. Peters, P. Muriana, K. Eskridge, D. Travnicek and S. S. Sumner. 2002. International egg pasteurization manual. United Egg Association 1720 Windward: American Egg Board.
Hidayat, A. 2007. Pengaruh Perbedaan Cara dan Lama Pemasakan Telur Asin Terhadap Sifat Organoleptik [Skripsi]. Fakultas Peternakan Universitas Jenderal Soedirman. Purwokerto.
Hidayati, N. dan Mardiyono. 2009. Pengaruh Waktu Pengasinan Terhadap Kadar Protein Putih Telur. Biomedika, 2(1) : 20-31
Julianti, E. da n M. Nurminah. 2006. Teknologi Pengemasan. Buku Ajar. Departemen Teknologi Pertanian. Fakultas Pertanian. Universitas Sumatera Utara.
Jovitta, J., S. Aswathi and S. Suja. 2012. InVitro Antioxidant And Phytochemical Screening Of Ethanolic Extract Of Alpinia Purpurata. Int. J. Pharm. Sci. Res., 3(7) : 2071-2074. Koswara, S. 2009. Teknologi Pengolahan Telur. E-Books. Com. (http://Tekpan.Unimus.Ac.Id/Wp Content/ Uploads/ 2013/ 07/ Teknologi Pengolaha-Telur. Pdf, Diakses Pada 03 Juli 2013).
Lukman, H. 2008. Pengaruh Metode Pengasinan dan Konsentrasi Sodium Nitrit Terhadap Karakteristik Telur Itik Asin. Jurnal Ilmiah Ilmu-Ilmu Peternakan, 11(1) : 9-17.
Oktaviani, H., N. Kariada dan N. R. Utami. 2012. Pengaruh Pengasinan terhadap Kandungan Zat Gizi Telur Bebek yang Diberi Limbah Udang. Unnes Journal of Life Science, 1(2) : 106112.
Parwata , I. M. O. A. dan P. F. S., Dewi. 2008. Isolasi Dan Uji Aktivitas Antibakteri Minyak Atsiri Dari Rimpang Lengkuas (Alpinia Galanga L.). Jurnal Kimia, 2(2) : 100-104.
Putri, A. A. S. dan N. Hidajati. 2015. Uji aktivitas antioksidan senyawa fenolik ekstrak metanol kulit batang tumbuhan nyuru batu (Xylocarpus moluccensis). Journal of Chemistry, 4(1): 1-6.
Purnomo, H. 1995. Aktivitas Air dan Peranannya Dalam Pengawetan. UIPRESS : Jakarta.
Respati, E., L. Hasanah, S. Wahyuningsih, Sehusman, M. Manurung, Y. Supriyani dan Rinawati. 2013. Buletin Konsumsi Pangan. Pusat Data dan Sistem Informasi Pertanian, 4(2) : 1-56.
Subramanian, V. and S., Suja. 2011. Evaluation Of Antioxidant Activity Of Alpinia Purpurata Rhizome (Vieill). J. Int. Res. Pharm. Sci., 2(4) : 601-607.
Winarno F. G. dan koswara . 2004. Telur: komposisi, penanganan dan pengolahannya. Bogor : M-Brio Press.
Yudhabuntara, D. 2004. Pengendalian Mikroorganisme Dalam Bahan Makanan Asal Hewan. Disajikan Dalam Pelatihan Pengawas Kesehatan Masyarakat Veteriner Yang Diselenggarakan Oleh Direktorat Jenderal Bina Produksi Peternakan Departemen Pertanian , Bogor 18-25 Agustus 2003. Hal.1-9.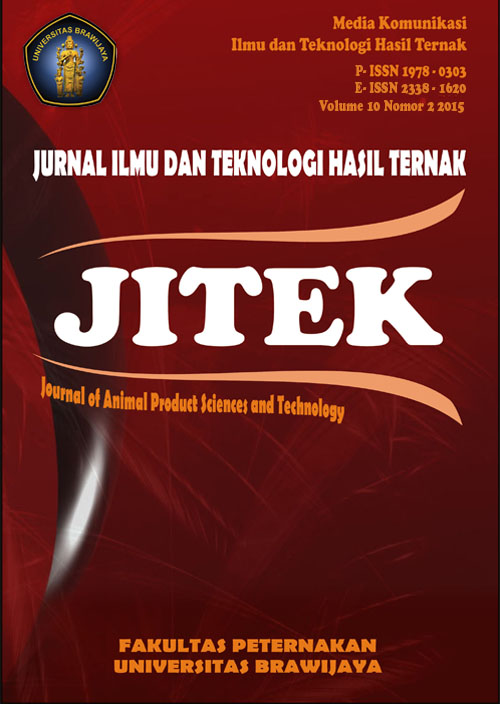 Downloads
License
Copyright (c) 2017 Fitriatus Sholehah, Imam Thohari, Firman Jaya
This work is licensed under a Creative Commons Attribution 4.0 International License.
Authors who publish with this journal agree to the following terms:


Authors retain copyright and grant the journal right of first publication with the work simultaneously licensed under a Creative Commons Attribution License that allows others to share the work with an acknowledgement of the work's authorship and initial publication in this journal.
Authors are able to enter into separate, additional contractual arrangements for the non-exclusive distribution of the journal's published version of the work (e.g., post it to an institutional repository or publish it in a book), with an acknowledgement of its initial publication in this journal.
Authors are permitted and encouraged to post their work online (e.g., in institutional repositories or on their website) prior to and during the submission process, as it can lead to productive exchanges, as well as earlier and greater citation of published work (See The Effect of Open Access).