Kestabilan Emulsi dan Karakteristik Sensoris Low Fat Mayonnaise dengan Menggunakan Kefir sebagai Emulsifier Replacer
Keywords:
Low fat mayonnaise, kefir, kestabilan emulsi, karakteristik sensoris
Abstract
Mayonnaise is a kind of semi solid oil in water (o/w) emulsion which containing pasteurized egg yolk as an emulsifier. The consumers have demanded that the use of egg yolk be reduced. Kefir was used to develop a low fat mayonnaise as emulsifier replacer to egg yolk. The objective of this research was to observe the emulsion stability, sensory characteristics of low fat mayonnaise prepare during kefir as emulsifier replacer. The research method was using experimental design. The result showed that formulation of low fat mayonnaise by using Rice bran oil 40%, kefir 20% produces the optimal low fat mayonnaise in emulsion stability and accepted by the panelist.
References
Depree, J.A.,and G.P. Savage. 2001. Physical and flavour stability of mayonnaise. J.Trends in Food Sci and Tech.12 (5/6): 157 – 163.
Dickinson, E. 2008. Hydrocolloids as emulsifiers and emulsion stabilizers. Food Hydrocoll. 23(6): 1473– 1482.
Garcia, K.M. 2006. Quality characterization of cholesterol-free mayonnaise type spreads containing rice bran oil. Thesis. B.S. Chemical Engineering. Lousiana State University,
Lousiana.
Gavahian. M., A. Farahnaky, M. Majzoobi, K. Javidnia, M.J. Sakarkhiz, and G. Mesbahi. 2011. Ohmic-assisted hydrodistillation of essential oils from Zataria multiflora bois (Shirazy thyme). International Journal of Food Sci and Tech, 46: 2619– 2627.
Gaonkar, G., R. Koka, K. Chen, and B. Campbell.2010. Emulsifying functionality of enzyme modified milk proteins on o/w and mayonnaise like emulsions. Afr. J.of Food Sci, 4(1):16– 25.
Harrison L.J., and F.E. Cunningham. 1985. Factors influencing the quality of mayonnaise. J.Food Quality. 8: 1 – 20.
Hui Y.H. 1992. Encyclopedia of Food Science and Technology. Vol 4. New York. John Wiley and Sons,
Inc.
Liu, X., X.M. Xu, and D. Guob. 2012. Rheological, texture and sensory properties of low fat mayonnaise with different fat mimetics. LWT – Food Sci and Tech. 40: 946 – 954.
Mc Clements, D.J. 2005. Food Emulsions : Principles Practice and Techniquers, 2nd ed., CRC Press., Boca Raton FL.
Monahan, E.J., D.J. Mc Clements, and J. B. German.1996. Disulfide mediated polymerization reactions and physical properties of heated WPI stabilized emulsion. Journal of Food Sci 61(3): 504 – 509.
Montaghi, M., M. Mazaheri, N. Moazami, A. Farkhondeh, M.H. Fooladi, and E.M. Goltapeh.1997. Short Communication: Kefir Production in Iran. World of
Microbial and Biotec. 13: 579-581.
Mun, S., Y.L. Kim, C.G. Kang, K.H. Park, Shim, and J.Y Kim. 2009. Development of reduced fat mayonnaise using 4 Gtase-modified rice starch and xanthan gum. Int. J. Biol Macromol. 44:400– 407.
Nikzade, V., Mazaheri, T., and Saadatman. 2012. Fat mayonnaise formulation effect of soy milk and some stabilizer by a mixture design approach. Food Hydrocol. 28: 344 – 352.
Raymundoa, A., J.M. Franco, J. Empis, and I. Sousa. 2002. Optimization of the composition of low fat oil in water emulsions stabilized by white lupin protein. J. Amer. Oil. Chem Soc. 79: 783 – 790.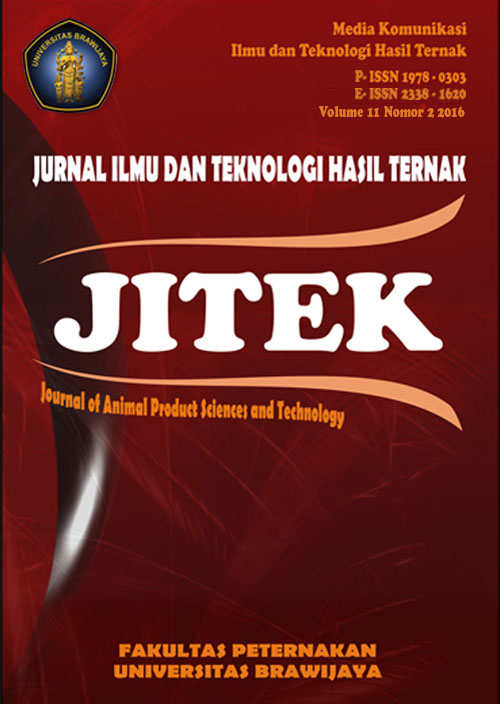 Downloads
License
Authors who publish with this journal agree to the following terms:
Authors retain copyright and grant the journal right of first publication with the work simultaneously licensed under a Creative Commons Attribution License that allows others to share the work with an acknowledgement of the work's authorship and initial publication in this journal.
Authors are able to enter into separate, additional contractual arrangements for the non-exclusive distribution of the journal's published version of the work (e.g., post it to an institutional repository or publish it in a book), with an acknowledgement of its initial publication in this journal.
Authors are permitted and encouraged to post their work online (e.g., in institutional repositories or on their website) prior to and during the submission process, as it can lead to productive exchanges, as well as earlier and greater citation of published work (See The Effect of Open Access).