Kualitas Petis Daging dengan Level Gula Jawa dan Tepung Beras yang Berbeda
Keywords:
Meat paste, amino acid profiles, sensory test
Abstract
The aimed of this study was to determine quality of meat paste from different level rice  starch and java sugar based on from physical, chemical and sensory test. The experiment used was Factorial Randomized Block design. Meat paste make from different level rice starch and java sugar. Starch properties content, protein content, viscosity and sensory test has evaluated from meat paste. Amino acid profiles was analysed  from the best result the experiment. Rice starch and the java sugar has significantly influenced the quality of meat paste. They gave a highly significant effect on the viscosity, flavour, colour and taste.
References
Anonymous, 2005. Beras. http://www.id.wikipedia.org/wiki .beras. Tanggal 16 November 2015.
__________, 2006a. Rice Flour. http://www.ingredients101.com/ri ceflour.htm. Tanggal 20 Agustus 2015.
__________, 2006b. Hasil Analisis Asam Amino dalam %b/b. Laboratorium Dasar Bersama Universitas Airlangga. Surabaya.
AOAC., 1990. Official Methods of Analysis of The Analytical Chemist. Edition Association of Official Analytical Chemist. Washington DC.
Astawan, M., 2004. Petis, Si Hitam Lezat Bergizi. http://www.republika.co.id/cetak _detail.asp?mid=i&id. Tanggal 21 Agustus 2005.
Belitz, H.D. and W. Grosch. 1999. Food Chemistry. Springer-Verlag Berlin. German.
Edwards, M. 2000. The Science of Sugar Confectionery. Cambridge CB4 UWF.UK
Fariadi, H.I. 1994. The Science of Cookie and Cracker Production. Chapman and Hall. New York.
Harjono, E. Zubaidah dan F.N. Aryani. 2000. Pengaruh Proporsi Tepung Beras Ketan dengan Tepung Tapioka dan Penambahan Telur Terhadap Sifat Fisik dan Organoleptik Kue Semprong. Jurnal Makanan Tradisional Indonesia. 2 : 39-45.
Khalida, R.N., 2006. Pengaruh Jenis dan Konsentrasi Bahan Pengisi Terhadap Sifat Fisik, Kimia dan Organoleptik Petis Pasta. Skripsi. Fakultas Teknologi Pertanian Universitas Brawijaya. Malang.
Kusumawati, T.A., 2005. Optimalisasi Pembuatan Kecap Instan dari Kaldu Daging dan Analisis Kelayakan. Skripsi. Fakultas Teknologi Pertanian Universitas Brawijaya. Malang.
Lestari, Y.E., 1999. Studi Tentang Penggunaan Jenis Pati pada Konsentrasi dan Suhu Pemanasan Berbeda Terhadap Sifat Fisik dan Kimia Bakso Ikan Tengiri (Scomberomus sp). Tesis. Program Studi Teknologi Pasca Panen Program Pasca Sarjana Universitas Brawijaya. Malang.
Purnomo, H., 1996. Teknologi dan DasarDasar Pengolahan Daging. PT Gramedia Pustaka Utama. Jakarta.
Rosyidah, R. 2005. Pembuatan Kecap Manis dari Limbah Cair Industri Abon Daging Sapi. Skripsi. Fakultas Tekonologi Pertanian Universitas Brawijaya. Malang.
Singh, J., L. Kaur, N.S. Sodhi, and B.S. Gill. 2003. Morphological, Thermal and Rheological of Starches From Different Botanical Sources. J. Food Chemistry, 81:219-231.
Stephen, A.M. 1995. Food Polysaccharides and Their Applications. Marcel Dekker, Inc.
New York
Sudarmadji, S.B., Haryono dan Suhardi. 1997. Analisa Bahan Makanan dan Pertanian. Liberty. Yogyakarta.
Suprapti, L.M. 2001. Membuat Petis. Kanisius. Yogyakarta.
Susanto, H. dan D. Widyaningtyas. 2004. Dasar-dasar Ilmu Pangan dan Gizi. Akademika. Yogyakarta.
Susanto, T. dan Yuwono. 2001. Pengujian Fisik Pangan. Unesa University Press. Surabaya.
Winarno., 1997. Kimia Pangan dan Gizi. PT Gramedia Pustaka Utama.
Jakarta.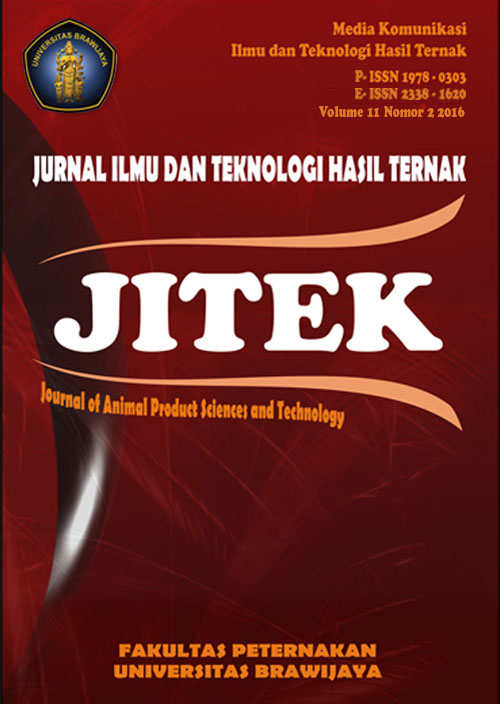 Downloads
License
Authors who publish with this journal agree to the following terms:
Authors retain copyright and grant the journal right of first publication with the work simultaneously licensed under a Creative Commons Attribution License that allows others to share the work with an acknowledgement of the work's authorship and initial publication in this journal.
Authors are able to enter into separate, additional contractual arrangements for the non-exclusive distribution of the journal's published version of the work (e.g., post it to an institutional repository or publish it in a book), with an acknowledgement of its initial publication in this journal.
Authors are permitted and encouraged to post their work online (e.g., in institutional repositories or on their website) prior to and during the submission process, as it can lead to productive exchanges, as well as earlier and greater citation of published work (See The Effect of Open Access).