Kualitas Petis Daging dengan Sumber Pati Berbeda
Keywords:
Meat paste, source paste, quality
Abstract
The aimed of this research was to determine meat paste quality from different starch source, toward the physical, chemical and organoleptic properties. The meat paste was evaluated for starch content, protein content, viscosity and organoleptic. The experiment design used was Complete Randomize Nested. Meat broth was supplemented with tapioca starch, gaplek starch, and sweet potato starch in different concentration. Analized amino acid profiles to the best result from the experiment. The different starch source with different concentration gave significantly different to the quality of the meat paste based on starch properties content, viscosity, and gave highly significant effect on color, flavor, and taste. The best quality meat paste was obtained from sweet potato starch.
References
Anonim, SNI-01-2178-1996. Petis Udang. Badan Standardisasi Nasional
_______, 2005a. Beras. http://www.id.wikipedia.org/wi ki.beras. Tanggal 16 November 2006.
_______, 2005b. Tapioka. http://warintek.progressio.or.id/. Tanggal 4 September 2006.
_________, 2006a. Pedoman Penyusunan Rencana Kerja Jaminan Mutu Penanganan Pasca Panen Ubi Kayu. www.deptan.go.id. Tanggal 12 September 2006
_________, 2006b. Rakitan Teknologi Tepung Ubi Jalar Dan Produk Olahannya. http://jatim.litbang.deptan.go.id. Tanggal 12 September 2006
_________, 2006c. Hasil Analisis Asam Amino dalam %b/b. Laboratorium Dasar Bersama Universitas Airlangga. Surabaya.
AOAC. 1990. Official Methods of Analysis of The Analytical Chemist. Edition Association of Official Analytical Chemist. Washington DC.
Astawan, M. 2004. Petis, Si Hitam Lezat Bergizi. www.republika.co.id/cetak_deta il.asp?mid=i&id. Tanggal 4 September 2006
Belitz, H.D. and W. Grosch. 1999. Food Chemistry. Sringer-Verlag Berlin
Edwards, M. 2000. The Science of Sugar Confectionery. Cambridge.
Hamid, A. T. 2001. Biokimia: Metabolisme Biomolekul. ALFABETA. Bandung
Harjono, Zubaidah, E. dan F.N Aryani. 2000. Pengaruh Proporsi Tepung Beras Ketan dengan Tepung Tapioka dan Penambahan Telur Terhadap Sifat Fisik dan Organoleptik Kue Semprong. Jurnal Makanan Tradisional Indonesia, 2:39-45.
Harjoyo, S. 2003. Mencegah Pencemaran oleh Industri Kecil. www.harian20%suara20%merd eka.htm. Tanggal 4 September 2006
Heddy, S., Susanto, W.H., dan Kurniati, M. 1994. Pengantar Produksi Tanaman dan Penanganan Pasca Panen. PT. Raja Grafindo Persada. Jakarta.
Idris, S. 1994. Metode Pengujian Bahan Pangan Sensoris. Fakultas Peternakan Universitas
Brawijaya. Malang.
Kay, D.E. 1973. Root Crops and The Tropical Products. Last Forign and Common Weth
Khalida, R.N. 2006. Pengaruh Jenis dan Konsentrasi Bahan Pengisi Terhadap Sifat Fisik, Kimia dan Organoleptik Petis Pasta. Skripsi. Fakultas Teknologi Pertanian Universitas
Brawijaya. Malang.
Kusumawati, T.A. 2005. Optimalisasi Pembuatan Kecap Instan dari Kaldu Daging dan Analisis Kelayakan. Skripsi. Fakultas Teknologi Pertanian Universitas Brawijaya. Malang.
Lestari, Y.E. 1999. Studi Tentang Penggunaan Jenis Pati pada Konsentrasi dan Suhu
Pemanasan Berbeda Terhadap Sifat Fisik dan Kimia Bakso Ikan Tengiri (Scomberomus sp). Tesis. Program Studi Teknologi Pasca Panen Program Pasca Sarjana Universitas Brawijaya. Malang.
Marliyati, S., Anna, A,. Sulaeman dan Anwar, F. 1992. Pengolahan Pangan Tingkat Rumah Tangga. PAUPG IPB. Bogor.
Purwadi. 1993. Dasar-Dasar Metode Sensori untuk Evaluasi Pangan. Program Studi THT.
Universitas Brawijaya. Malang.
Rakhman, J. 2006. Pembuatan Tepung Ubi Jalar (Ipomoea batatas l. Lam) sebagai Bahan Baku Industri Onde-onde (Kajian Lama Waktu Perendaman dalam Asam Askorbat). Skripsi. Jur. THP-FTP Unibraw. Malang.
Singh, J., Kaur, L., Sodhi, N.S and B.S Gill. 2003. Morphological, Thermal and Rheological of Starches from Different Botanical Sources. J. Food Chemistry. 81:219-231.
Stephen, A.M. 1995. Food Polysaccharides and Their Applications. Marcel Dekker, Inc. New York
Sudarmadji, S.B., Haryono dan Suhardi. 1997. Analisa Bahan Makanan dan Pertanian. Liberty. Yogyakarta.
Suprapti, L.M. 2001. Membuat Petis. Kanisius. Yogyakarta.
Susanto, H. dan D. Widyaningtyas. 2004. Dasar-dasar Ilmu Pangan dan Gizi. Akademika.
Yogyakarta.
Susanto, T. dan B. Saroto. 1994. Teknologi Pengolahan Hasil Pertanian. Bina Ilmu. Surabaya.
Susanto, T. dan Yuwono. 2001. Pengujian Fisik Pangan. Unesa University Press. Surabaya.
Syarief, R dan A. Irawati. 1988. Pengetahuan Bahan Untuk Industri Pertanian. Mediyatama Sarana Perkasa. Jakarta.
Whitt, S.R., Larissa, Wilson, M., Maud, I., Tenalton, Gaut, B.S and E.S. Buckler. 2002. Genetic Diversity and Selection in The Maize Starch Pathway. PNAS. Australian Journal of Agriculture Research. 20: 12959-12962.
Williams, Mc. M. 1997. Food Experimental Perspectives. Prentice Hall Inc. New York
Winarno, F.G. 2002. Kimia Pangan dan Gizi. PT Gramedia Pustaka Utama. Jakarta.
Wirakartakusumah, A dan Febriyanti, T. 1993. Studi Karakteristik Fisikokimia dan Fungsional Tepung Ubi Kayu. PAUPG-IPB. Bogor.
Yitnosumarto, S. 1991. Percobaan: Perancangan, Analisa dan Interpretasinya. PT Gramedia Pustaka Utama. Jakarta.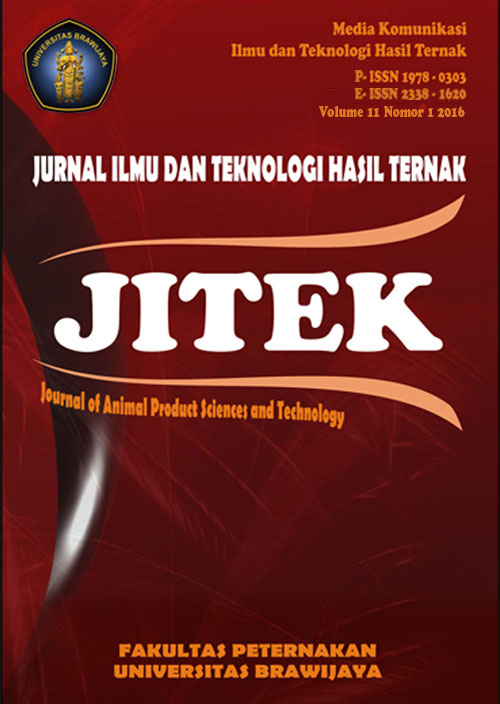 Downloads
License
Copyright (c) 2017 Fajar Firdaus, Agus Susilo, Masdiana Chendrakasih Padaga
This work is licensed under a Creative Commons Attribution 4.0 International License.
Authors who publish with this journal agree to the following terms:


Authors retain copyright and grant the journal right of first publication with the work simultaneously licensed under a Creative Commons Attribution License that allows others to share the work with an acknowledgement of the work's authorship and initial publication in this journal.
Authors are able to enter into separate, additional contractual arrangements for the non-exclusive distribution of the journal's published version of the work (e.g., post it to an institutional repository or publish it in a book), with an acknowledgement of its initial publication in this journal.
Authors are permitted and encouraged to post their work online (e.g., in institutional repositories or on their website) prior to and during the submission process, as it can lead to productive exchanges, as well as earlier and greater citation of published work (See The Effect of Open Access).