The Effect of Egg Yolk Chicken Utilization In Fat Liquoring Process to Tensile Strength, Elongation at Break, Water Absorption and Shank Skin Leather Stitch Tear Strength of Combination Tanning (Chrome – Tannine)
Abstract
The aim of this research were to examine level of egg yolk chicken utilization that effective in fat liquoring process to tensile strength, elongation at break, watter absorptin and stitchtear strength of combination tann (Chrome – tannine) of shank skin. The material used were fresh shank skin which seven week old, fresh egg with prserved for not more seven days. Data analyse used  in this study was complete randomice desaign (CRD). The research treatment was level of egg yolk utilization that are 5 % (P1), 7,5 % (P2), 10,0 % (P3) and 12,5 % (P4). Each treatment repeated four times, and the control using 6,0 % paradol HISN oil (%age calculated from the weight of wet blue). The result shown that rates of tensile strength of P1, P2, P3, P4 respectively were 67,93, 88,09, 89,31, 70,00 kg/cm2. Elongation at break by 24,5, 29,5, 30,0, 28,0 %. Watter absorption by 181,54, 146,20, 132,81, 132,56 %, and stritchtear strength by 43,00, 63,80, 69,50, 60,98 kg/cm. The utilization level of egg yolk 10 % could produce a better tensile strength and elongation at break, watter absorption and stitchtearstrength. It was suggested for used as fat liquoring agent in tanning process shsnk., skin leather.
Keywords : Fat liquoring, Tensile strength, Elongation at break, Watter absorbtion,Stitchtear strength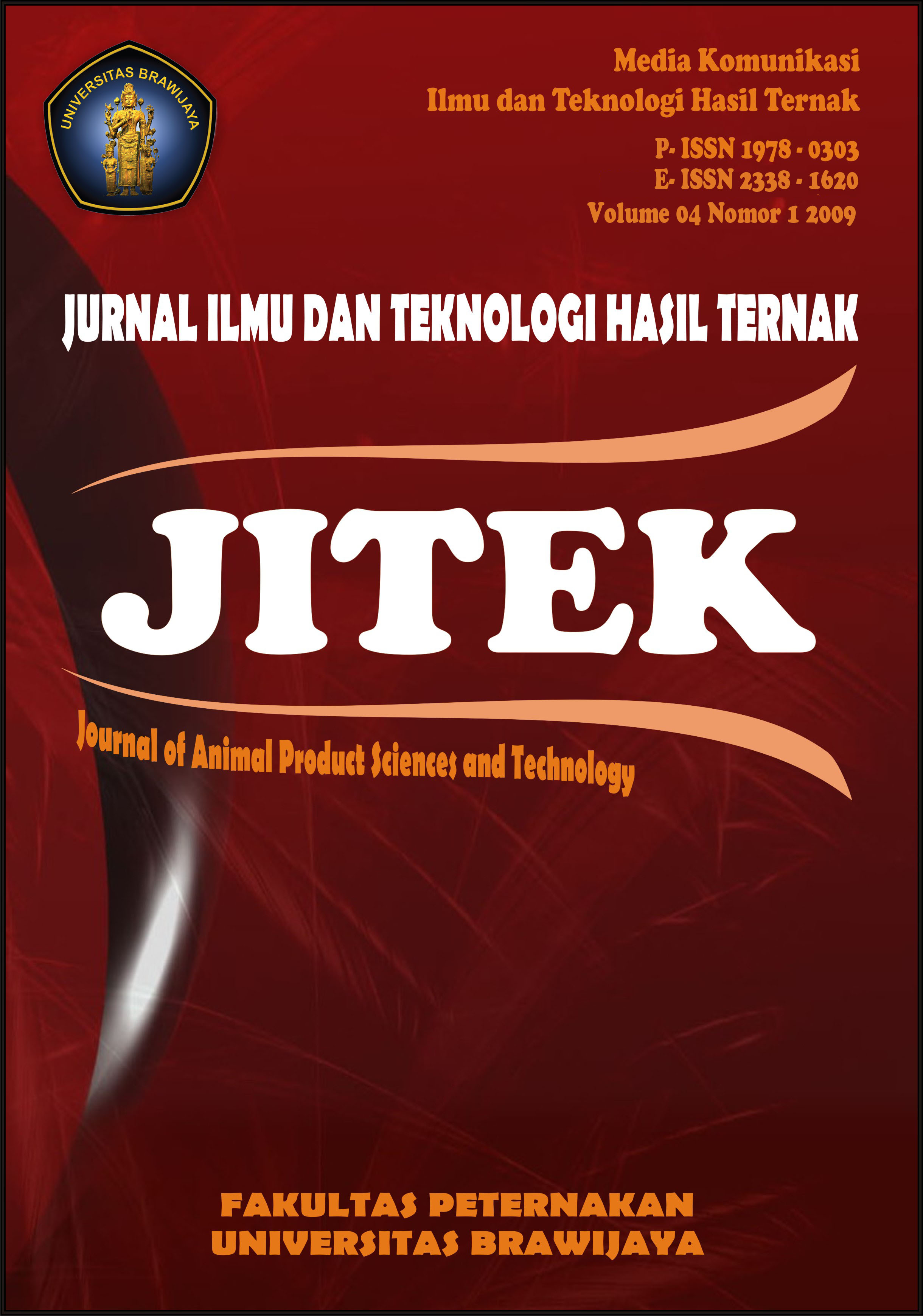 Downloads
License
Copyright (c) 2012 Mustakim Mustakim
This work is licensed under a Creative Commons Attribution 4.0 International License.
Authors who publish with this journal agree to the following terms:


Authors retain copyright and grant the journal right of first publication with the work simultaneously licensed under a Creative Commons Attribution License that allows others to share the work with an acknowledgement of the work's authorship and initial publication in this journal.
Authors are able to enter into separate, additional contractual arrangements for the non-exclusive distribution of the journal's published version of the work (e.g., post it to an institutional repository or publish it in a book), with an acknowledgement of its initial publication in this journal.
Authors are permitted and encouraged to post their work online (e.g., in institutional repositories or on their website) prior to and during the submission process, as it can lead to productive exchanges, as well as earlier and greater citation of published work (See The Effect of Open Access).