The Optimum Concentration of Lime Juice as Acidifier on Mozzarella Cheese Manufacturing
Abstract
The objectives of current research were to study the potency of lime juice as acidifier on Mozarella cheese physical quality. The method used in this research was completely randomized design. The experiment of variation of lime juice was repeated 4 times including 6 treatments were : L1=1.5%, L2=1.6%, L3=1.7%, L4=1.8%, L5=1.9% and L6=2.0% (v/v). The variables  were rendement, meltability, strechability, and elasticity. Variation analysis on rendement, stretchability, and elasticity of Mozarella cheese showed that the use of those lime juice concentration gave no significant difference (P>0.05). However, those treatments gave significant different (P<0.05) on meltability of Mozarella cheese. The range of cheese rendement was about 11.00-11,93%. The highest meltability was on 1.9% concentration of lime juice. Therefore, it could be concluded that 1.9% concentration of lime juice was better for making Mozarella cheese as the highest value on rendement, meltability, strechability than the other concentration.
 
Keywords: lime juice, Mozarella cheese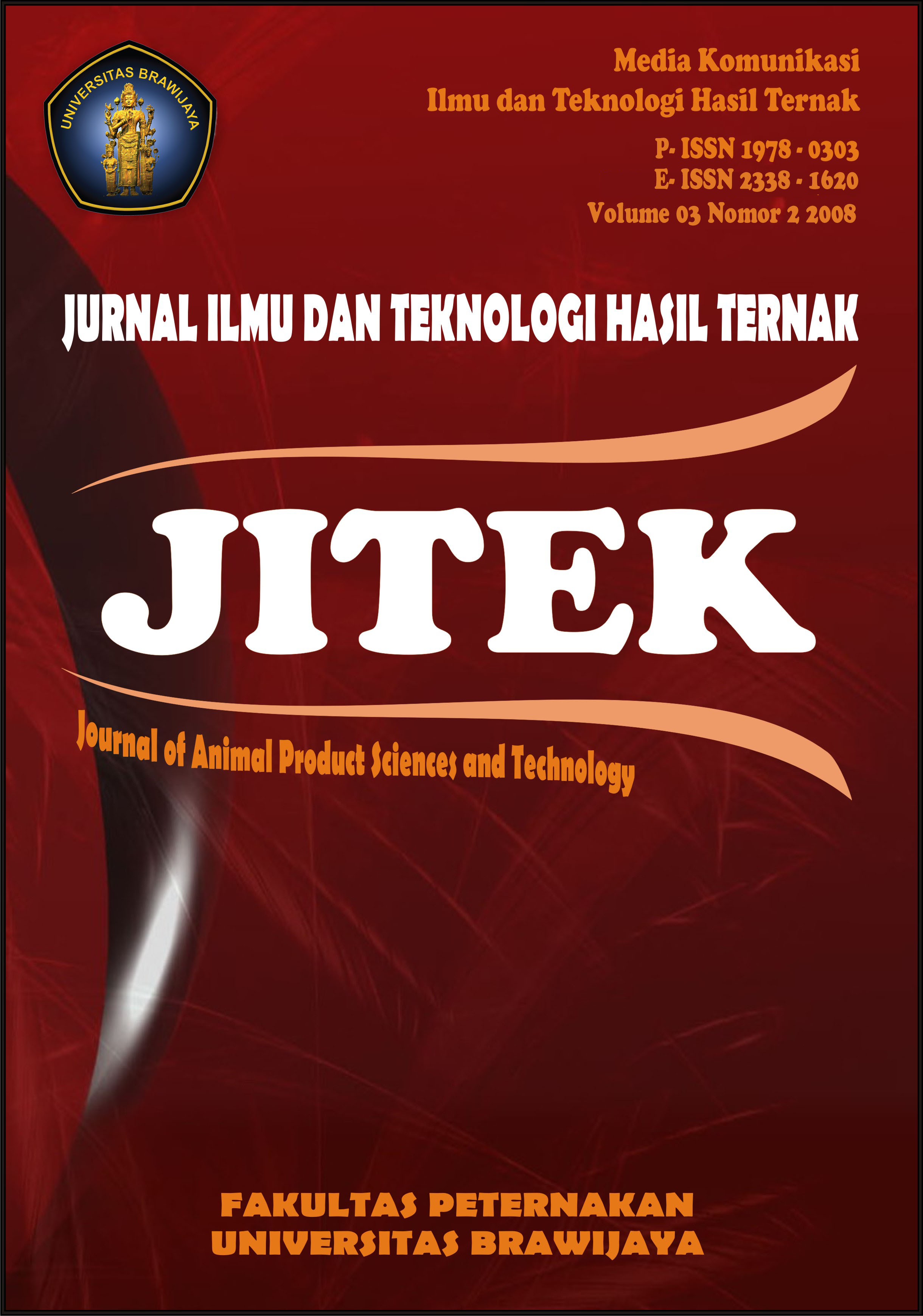 Downloads
License
Authors who publish with this journal agree to the following terms:
Authors retain copyright and grant the journal right of first publication with the work simultaneously licensed under a Creative Commons Attribution License that allows others to share the work with an acknowledgement of the work's authorship and initial publication in this journal.
Authors are able to enter into separate, additional contractual arrangements for the non-exclusive distribution of the journal's published version of the work (e.g., post it to an institutional repository or publish it in a book), with an acknowledgement of its initial publication in this journal.
Authors are permitted and encouraged to post their work online (e.g., in institutional repositories or on their website) prior to and during the submission process, as it can lead to productive exchanges, as well as earlier and greater citation of published work (See The Effect of Open Access).