Characteristics of Beef Rendang with the Addition of Red Ginger (Zingiber officinale var. Rubrum) During Storage at Room Temperature
Keywords:
Antioxidan, Organoleptic, Red Ginger, Rendang
Abstract
The addition of red ginger in the making of rendang was expected to increase antioxidants to prevent rancidity and increase the shelf life of rendang. This study aimed to analyze the physicochemical, organoleptic and antioxidant activity of beef rendang with the addition of red ginger at different levels based weight of meat (0%, 15%, and 30%). The tested rendang was stored in a tightly closed jar and left at room temperature. The results showed that the interaction of the addition of red ginger and storage period had a significant effect (p<0.05) on the pH value, water activity, moisture, protein content, TBARS value, and antioxidant activity, but has no significant effect on ash content, fat content, and tenderness. Ash and fat content as well as tenderness of beef rendang added red ginger were not different from beef rendang not added red ginger (control). Based on sensory test the addition of red ginger did not affect the preference of the panelists. The addition of red ginger to the manufacture of beef rendang has a positive effect on physicochemical characteristics and increases antioxidant activity. Generally, red ginger addition as much as 30% resulted the best result.
References
Akbar A, Gusnita W. kualitas rendang daging dengan metode pengolahan yang berbeda. Jurnal pendidikan Tataboga dan Teknologi. 1(2): 111-117.
Anas M, Novieta ID, Fitriani. 2019. Konsentrasi dan lama perendaman ekstrak jahe merah (Zingiber officinale R) yang berbeda terhadap nilai pH dan susut masak daging entok (Cairine moschata). Jurnal Sinergitas Multidisiplin Ilmu Pengetahuan dan Teknologi. 2(1):303-306.
[AOAC] Association Official Analytical Chemist. 2005. Official Method of Analysis of Association of Official Analytical of Chemist. Virginia (US): The Association of Official Analytical Chemist Inc.
Arief H, Pramono Y, Bintoro V, 2012. Pengaruh edible coating dengan konsentrasi berbeda terhadap kadar protein, daya ikat air, dan aktivitas air bakso sapi selama penyimpanan. Animal Agriculture Journal. 1(2): 100-108.
Arifin B, Ibrahim S. 2018. Struktur, bioaktivitas, dan antioksidan flavonoid. Jurnal Zarah. 6(1) 21-29.
Arlinda YA, Devi M, Hidayati L. 2021. Analisis perbedaan hidangan rendang khas nasi Padang dan rendang khas nasi kandar terhadap kadar proksimat. Jurnal Prosiding Pendidikan Teknik Boga Busana. 16(1).
Aruoma OI, Spencer JPE, Warren D, Jenner P, Butler J, Halliwell B. 1997. Characterization of food antioxidants, illustrated using commercial garlic and ginger preparations. Food Chemistry. 60(2): 149-156
Azizah Z, Rasyid R, Katina D. 2016. Pengaruh pengulangan dan lama penyimpanan terhadap ketengikan minyak kelapa dengan metode asam thiobarbiturat (TBA). Jurnal Farmasi Higea. 8(2):189-200.
[BSN] Badan Standarisasi Nasional. 2006. SNI No: 01-2346-2006: Petunjuk Pengujian Organoleptik atau Sensori. Jakarta: Badan Standarisasi Nasional.
Cita IPGWE, uada IK, Budiasa K. pengaruh infusa daun salam terhadap kualitas daging kambing pada suhu ruang. Jurnal Indonesia Medicus Veterinus. 7(6): 616-625.
Farrel R, Aulawi T, Darmawi A. 2020. Analisis mutu simplia rimpang jahe merah (Zingiber officinale var. Rubrum) dengan suhu pengeringan yang berbeda. Jurnal Pertanian Tropik. 7(1): 136-143.
Indriani V, Apriantini A, Suryati T. 2021. Penerapan GMP dan SSOP dalam proses produksi rendang daging di produsen rendang Istana Rendang Jambak. Jurnal Ilmu Produksi dan Teknologi Hasil Peternakan. 9(3): 127-137.
Irawan B, Septiana M. 2012. Efek komposisi tanah dan biofarmaka terhadap penurunan kadar kolestrol pada pengasinan telur itik albio. Agroscientiae. 19(2).
Kaban AN, Daniel, Saleh C. 2016. Uji fitokimia, toksisitas dan aktivitas antioksidan fraksi n-heksan dan etil asetat terhadap ekstrak jahe merah (Zingiber officinale var. Rubrum). Jurnal Kimia Mulawarman. 14(1): 24-28.
Kosim A, Suryati T, Gunawan A. 2015. Sifat fisik dan aktivitas antioksidan dendeng daging sapi dengan penambahan stroberi (Fragaria ananassa) sebagai bahan curing. Jurnal Ilmu Produksi dan Teknologi Hasil Peternakan. 3(3): 189-196.
Mulyono, Herlina R, Mulyono. 2002. Khasiat dan Manfaat Jahe Merah: Si Rimpang Ajaib. Jakarta: Agro Media Pustaka.
Nakamnanu MN, Sabtu B, Armadianto H. 2019. Pengaruh lama perendaman dalam sari jahe merah (Zingiber Officinale Rosc) terhadap sifat kimia dan organoleptic dendeng domba. Jurnal Peternakan Lahan Kering. 1(3) 490-497.
Pujilestari T, Lestari N. 2009. Analisis senyawa kimia pada tiga jenis jahe dan penggunaannya untuk keperluan industri. Jurnal Riset Teknologi Industri 3(6):32-38. doi: http://dx.doi.org/10.26578/jrti.v3i6.1424.
Putri MF. 2019. Telur asin sehat rendah lemak tinggi protein dengan metode perendaman jahe dan kayu secang. Jurnal Kesejahteraan Keluarga dan Pendidikan. 6(2):93-101. doi: http://doi.org./10.21009/JKKP.
Sari RP, Rahayuningsih HM. 2014. Pengaruh Pemberian Jahe Merah (Zingiber officinale var. Rubrum) Terhadap Kadar Kolesterol Total Wanita Dislipidemia. J Nutr Coll. 1(1): 41.
Salejda AM, Tril U, Krasnowska G. 2014. The effect of sea buckthorn (Hippophae rhamnoides L.) berries on some quality characteristics of cooked pork sausages. International Journal of Biological, Veterinary, Agricultural and Food Engineering. 8(6): 561-564.
Sholehah F, Thohari I, Jaya F. 2015. Pengaruh penambahan sari lengkuas merah (Alpinia purpurata K. Schum) dan lama simpan telur asin terhadap aktivitas air dan tekstur. Journal Ilmu dan Teknologi Hasil Ternak. 10(2): 18-27.
Soeparno. 2005. Ilmu dan Teknologi Daging. Yogyakarta Gajah Mada University Pr.
Sorensen G, Jorgensen SS. 1996. A critical examination of some experimental variables in the 2-thiobarbituric acid (TBA) test for lipid oxidation in meat products. European Food Research and Technology. 202:205-210.
Steel R, Torrie JK. 1991. Prinsip dan Prosedur Statistik. Jakarta (ID): PT. Gramedia Pustaka Utama.
Tangkanakul P, Auttaviboonkul P, Niyomwit B, Charoenthamawat P, Lowvitoon N, Trakoontivakorn G. 2009. Antioxidant capacity, total phenolic content and nutritional composition of Asian foods after thermal processing. Journal of International Food Res. 16: 571-580.
Wally E, Mentang F, Montolalu RI. 2015. Kajian mutu kimiawi ikan cakalang (Katwonus pelamis L) asap (fufu) selama penyimpnan suhu ruang dan suhu dingin. Jurnal Media Teknologi Hasil Perikanan. 3(1): 7-12.
Winarno FG, Jenie BSL. 1983. Kerusakan Bahan Pangan dan Pencegahannya. Jakarta: Ghalia Indonesia.
Zahro SF, Fitrah KA, Prakoso SA, Purnamasari L. Pengaruh pelayuan terhadap daya simpan dan keempukan daging. Jurnal Peternakan Indonesia. 23(3): 235-239.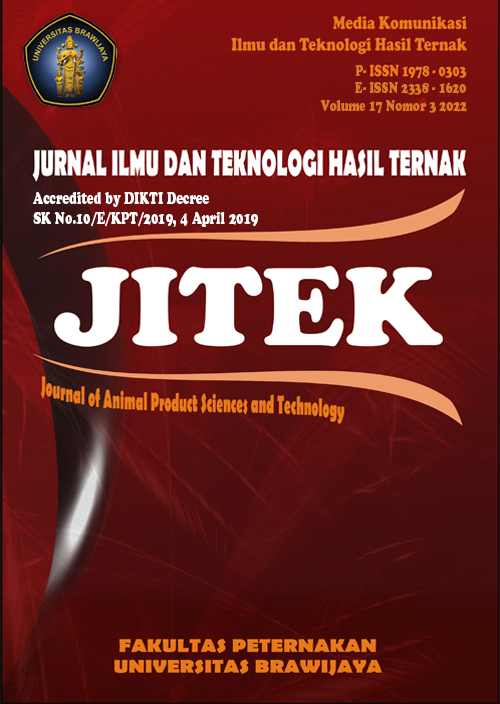 Downloads
License
Copyright (c) 2022 Jurnal Ilmu dan Teknologi Hasil Ternak (JITEK)
This work is licensed under a Creative Commons Attribution 4.0 International License.
Authors who publish with this journal agree to the following terms:
Authors retain copyright and grant the journal right of first publication with the work simultaneously licensed under a Creative Commons Attribution License that allows others to share the work with an acknowledgement of the work's authorship and initial publication in this journal.
Authors are able to enter into separate, additional contractual arrangements for the non-exclusive distribution of the journal's published version of the work (e.g., post it to an institutional repository or publish it in a book), with an acknowledgement of its initial publication in this journal.
Authors are permitted and encouraged to post their work online (e.g., in institutional repositories or on their website) prior to and during the submission process, as it can lead to productive exchanges, as well as earlier and greater citation of published work (See The Effect of Open Access).