Antibacterial Activity From Goat's Milk Whey Hydrolized by Protease Enzyme of Bacillus Lincheniformis
Keywords:
antibacterial, protease Bacillus lincheniformis, goat milk
Abstract
Food additives had been used to prevent and inhibit the growth of microorganisms and extend shelf life of food. Based on the safety of their used, it has an impact such as microorganism resistance to synthetic antimicrobials. This encourages the development of antimicrobials derived from natural ingredients, especially from milk. The bioactive components of milk protein have not always existed in their natural state, including precursors or peptides that will only be active if they have been hydrolyzed in vitro from their natural proteins. Hydrolysis of milk protein can be carried out using proteolytic enzymes from various sources, including protease extracted from Bacillus lincheniformis. This study used different concentrations of the protease extracted from Bacillus lincheniformis (0.5%, 1% and 1.5%) to produce hydrolyzate which has antibacterial activity in terms of protein content, SDS PAGE profile and the size of the inhibition zone (disc method). The results showed that the best activity of the whey hydrolyzed on Gram-negative Escherichia coli was 1% concentration of protease enzyme. In comparison, Gram positive Staphylococcus aureus can be inhibited with 0.5% concentration of protease enzyme.
References
Almaas, H., Eriksen, E., Sekse, C., Comi, I., Flengsrud, R., Holm, H., & Vegarud, G. E. (2011). Antibacterial peptides derived from caprine whey proteins, by digestion with human gastrointestinal juice. British journal of nutrition, 106(6), 896-905.
Aziz, M. A. (2010). Present status of the world goat populations and their productivity. World, 861(1078.2), 1.
Bollag, D.M., Rozycki, M.D., & Edelstein, S. (1996). Protein Methods 2nd Ed. New York: Wiley-Liss.
Detha, A., Sudarwanto, M., Latif, H., Datta, F.U., & Rahayu, P. (2013). Fractionation and identification antimicrobial activity of Sumba mare milk protein against causative agent of subclinical mastitis. Global Veterin 11(5):674-680. doi: 10.5829/idosi.gv.2013.11.5.76210.
Dhiman, A., Nanda, A., Ahmad, S., & Narasimhan, B. (2011). In vitro antimicrobial activity of methanolic leaf extract of Psidium guajava L. J Pharm Bioallied Sci. 3(1): 226-229.
Ferrero, M.A., Castro, G.R., Abate, C.M., Baigoro, M.D., & Sineriz, F. (1996). Thermostable alkaline protease of Bacillus licheniformis MIR 29: isolation, production and characterization. Appl Microbiol Biotechnol. 45:327- 332.
He, F. (2011). Bradford protein assay. Bio-protocol, e45-e45.
Herlina, N., Mustops, A.Z., Surachma, R.S., Triatna, L., Kartika, G., & Alfisyahrin, W.N. (2019). Aktivitas antibakteri dan antioksidan peptida susu kambing hasil hidrolisis dengan protease Lactobacillus plantarum S31. J Biol Indonesia 15: 23-31. DOI: 10.47439/jbi/15012019/23.
Jellouli, K., Ghorbel-Bellaaj, O., Ayed, H. B., Manni, L., Agrebi, R., & Nasri, M. (2011). Alkaline-protease from Bacillus licheniformis MP1: purification, characterization and potential application as a detergent additive and for shrimp waste deproteinization. Process Biochemistry, 46(6), 1248-1256.
Jenssen, H., Hamill, P., & Hancock, R. E. (2006). Peptide antimicrobial agents. Clinical microbiology reviews, 19(3), 491-511.
Korhonen, H., & Pihlanto, A. (2006). Bioactive peptides: Production and functionality. International dairy journal, 16(9), 945-960.
Kusumaningtyas, E., Widiastuti, R., Kusumaningrum, H.D., & Suhartono, M.T. (2015). Aktivitas antibakteri dan antioksidan hidrolisat hasil hidrolisis protein susu kambing dengan ekstrak kasar bromelin. J Teknol Industri Pangan 26: 179-188. DOI: 10.6066/jtip/2015.26.2.179.
Lestari, D., & Soesilo, W. (2017). Aktivitas antibakteri peptida kasein susu kambing hidrolisis oleh papain terhadap Pseudomonas aeruginosa. J Ilmu Pangan Hasil Pertanian 1: 81-92. DOI: 10.26877/jiphp.v1i2.1914.
Mihajlovic, M., & Lazaridis, T. (2010). Antimicrobial peptides in toroidal and cylindrical pores. Biochim-Biophys Acta 1798: 1485-1493.
Mondhe, M., Chessher, A., Goh, S., Good, l., & Stach, J.E.M. (2014). Species-selective killing of bacteria by antimicrobial peptida-PNAs. PLoS ONE 9:e89082. DOI: 10.1371/journal.pone.0089082.
Pan, X., Chen, F., Wu, T., Tang, H., & Zhao, Z. (2009). The acid, bile tolerance and antimicrobial property of Lactobacillus acidophilus NIT. J Food Control. 20: 598-602.
Purwanto, M.G.M. (2014). Perbandingan analisa kadar protein terlarut dengan berbagai metode spektroskopi UV-visible. Tekno Sains 7: 1-71.
Sapatnekar, N.M., Patil, S.N., & Aglave, B.A. (2010). Extraction of bacteriocin and study of its antagonistic assay. IJ Biotech Biochem. (6): 865-870.
Singh, P., Benjakul, S., Masqood, S., & Kishimura, H. (2011). Isolation dan characterization of collagen extracted from skin of stripped catfish (Pangasianodon hypopthalamus). Food Chem 124 : 97-105. DOI: 10.1016/j.foodchem.2010.05.111.
Steel, R.G.D., & Torrie, H.J. (1991). Prinsip dan Prosedur Statistika. Sumantri B, penerjemah. Jakarta (ID): Gramedia Pustaka Media.
Szwajkowska, M., Wolanciuk, A., Barlowska, J., Krol, J., & Zygmunt, L. (2011). Bovine milk proteins as the source of bioactive peptidas influencing the consumers immune system. Anim Sci Pap Rep 29: 269-280.
Utami, P., Lestari, S., & Lestari, S.D. (2016). Pengaruh metode pemasakan terhadap komposisi kimia dan asam amino ikan seluang (Rasbora argyrotaenia). Fish TecH-J Teknol Hasil Perikanan 5:73-84.
Vijayaraghavan, P., Lazarus, S., & Vincent, S.G.P. (2014). De-hairing protease production by an isolated Bacillus cereus under solid-state fermentation using cow dung biosynthesis and properties. Saudi J Biol Sci. 21(1):27-34.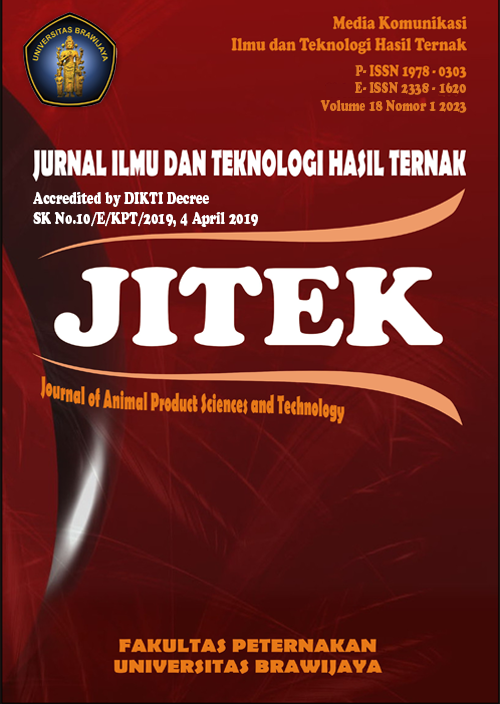 Downloads
License
Copyright (c) 2023 IRMA ISNAFIA ARIEF
This work is licensed under a Creative Commons Attribution-NonCommercial 4.0 International License.
Authors who publish with this journal agree to the following terms:


Authors retain copyright and grant the journal right of first publication with the work simultaneously licensed under a Creative Commons Attribution License that allows others to share the work with an acknowledgement of the work's authorship and initial publication in this journal.
Authors are able to enter into separate, additional contractual arrangements for the non-exclusive distribution of the journal's published version of the work (e.g., post it to an institutional repository or publish it in a book), with an acknowledgement of its initial publication in this journal.
Authors are permitted and encouraged to post their work online (e.g., in institutional repositories or on their website) prior to and during the submission process, as it can lead to productive exchanges, as well as earlier and greater citation of published work (See The Effect of Open Access).