Evaluation of Microbial Numbers and Physical Properties of Milk Preserved with Different Time of Pre-Heating and Pulsed Electric Fields (PEF) Exposure
Keywords:
Emulsion stability, lightness, milk, total plate count, viscosity
Abstract
Milk production is intended for human consumption; hence preservation technology is required while maintaining the sensory and nutritional attributes. Some of technologies applied in milk are the use of pre-heating combined with pulsed electric fields (PEF) exposure. The aim of this study was to examine the effect of combination food preservation techniques using pre-heating and PEF with various conditions. The raw milk first received the pre-heating treatment at 70 ËšC, followed by PEF exposure. A completely randomized design (CDR) was applied in this research. It used two factors, namely factor I (pre-heating duration: 10, 20, and 30 minutes), and factor II (PEF exposure duration: 2, 4, and 6 minutes) with three replications, resulting in nine (9) treatments. The results reveal that there was a bacterial reduction within the range of 0.70-1.06 log CFU/mL. Besides, the increasing duration of pre-heating combined with PEF exposure decrease the values of viscosity, emulsion stability, and lightness of raw milk samples. Moreover, the most effective treatment observed in the raw milk-treated with pre-heating of 10 minutes and PEF of 2 minutes, with the level of TPC, viscosity, emulsion stability, and lightness of 1.88 log CFU/mL, 14.65 cP, and 95.65%, respectively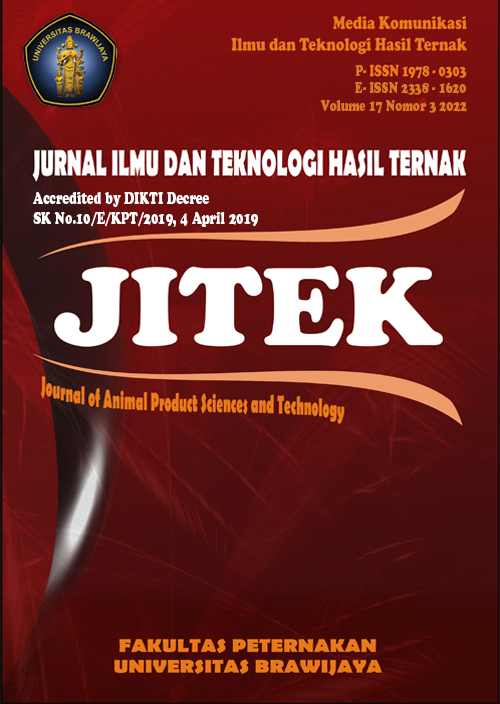 Downloads
License
Copyright (c) 2022 Anugerah Dany Priyanto, Teti Estiasih, Angky Wahyu Putranto, Widyasari Widyasari , Rahmawati Rahmawati
This work is licensed under a Creative Commons Attribution-NonCommercial 4.0 International License.
Authors who publish with this journal agree to the following terms:


Authors retain copyright and grant the journal right of first publication with the work simultaneously licensed under a Creative Commons Attribution License that allows others to share the work with an acknowledgement of the work's authorship and initial publication in this journal.
Authors are able to enter into separate, additional contractual arrangements for the non-exclusive distribution of the journal's published version of the work (e.g., post it to an institutional repository or publish it in a book), with an acknowledgement of its initial publication in this journal.
Authors are permitted and encouraged to post their work online (e.g., in institutional repositories or on their website) prior to and during the submission process, as it can lead to productive exchanges, as well as earlier and greater citation of published work (See The Effect of Open Access).