Characteristics of Egg White Effervescent Tablet with Different Effervescent Mix Concentration
Keywords:
Albumen powder, effervescent tablet, protein, spray dryer, maltodextrin
Abstract
Egg white is one source of protein that has many functions, including as an antimicrobial, antihypertensive, anti-cancer, and this can also be used as a preservative and sweetener. The addition of egg white powder to effervescent tablets with lemon essence is expected to increase protein levels in the tablet. The purpose of this study was to study the physical, chemical and organoleptic characteristics of effervescent tablets by adding egg white powder to the formulation. The study design used a randomized block design (RBD) with the making period as a group. The treatments used were different concentrations of effervescent mix (sodium bicarbonate, citric acid and tartaric acid), that is, 55, 60 and 65%. Data from the test results were tested with analysis of variance (ANOVA), further tests with the Duncan test. The physical characteristics of effervescent tablets with the addition of egg white powder and the difference in the concentration of effervescent mix as a treatment were not significantly different among treatments. The chemical characteristics of egg white effervescent tablets did not change with the treatment concentration of effervescent mix 55, 60 and 65% but the water activity (aw) of the effervescent tablets changed. Increasing the concentration of effervescent mix treatment can reduce the value of aw from 0.58 to 0.50. The addition of albumen powder with different concentrations of effervescent mix resulted in effervescent tablets according to predetermined standards. The organoleptic test results on the overall assessment of egg white powder effervescent tablets were somewhat favorable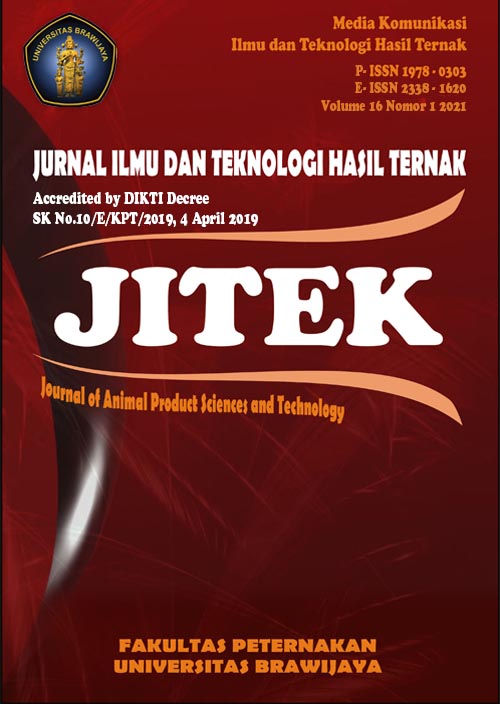 Downloads
License
Authors who publish with this journal agree to the following terms:
Authors retain copyright and grant the journal right of first publication with the work simultaneously licensed under a Creative Commons Attribution License that allows others to share the work with an acknowledgement of the work's authorship and initial publication in this journal.
Authors are able to enter into separate, additional contractual arrangements for the non-exclusive distribution of the journal's published version of the work (e.g., post it to an institutional repository or publish it in a book), with an acknowledgement of its initial publication in this journal.
Authors are permitted and encouraged to post their work online (e.g., in institutional repositories or on their website) prior to and during the submission process, as it can lead to productive exchanges, as well as earlier and greater citation of published work (See The Effect of Open Access).