The Effect of Skim Milk Concentration on Sensory Quality and pH of Probiotic Yoghurt Added with Red Dragon Fruit (Hylocereus polyrhizus)
Keywords:
pH value, sensory, skim milk, probiotic yoghurt
Abstract
Probiotic yoghurt is one of dairy products that has benefits to the human health. This research aimed to understand the effect of skim milk concentration on the sensory quality traits and pH of probiotic yoghurt added with red dragon fruit (Hylocereus polyrhizus) dices prior to the fermentation. The research method was experimental method with 4 treatments and 3 replications in a completely randomized group design. The data were analyzed using one-way analysis of variance followed by Duncan's multiple range test at P<0.05. The treatment in this research was different addition levels of skim milk (3%, 5%, 7%, and 9%) to yoghurt. The pH, color, aroma, taste, texture, viscosity and overall acceptance were assessed. The addition of skim milk increased (P<0.05) the acceptability of flavor, texture, viscosity and overall acceptance, in which the addition of skim milk at 9% showed the highest acceptability of taste. However, different addition level of skim milk did not significantly affect pH and the acceptability of color and aroma of yoghurt. The pH of yogurt ranged from 4.06 to 4.26. In addition, the color and aroma of yogurt were in the scale of neither like or dislike, the texture was in the scale of dislike to like, taste, viscosity and overall acceptance were in the scale of dislike to neither like nor dislike. In conclusion, skim milk should be used for producing yogurt with red dragon fruit at 9% of whole milk to obtain acceptable product.
References
Ashari, S. (2004). Biologi Reproduksi Tanaman Buah-buahan Komersial. Malang: Bayumedia Publishing.
Burton, E. (2014). Formulasi Yoghurt Probiotik Karbonasi dan Potensi Sifat Fungsionalnya [Tesis]. Jurnal Ilmu Produksi Dan Teknologi Hasil Peternakan, 02(1), 2014.
Djaafar, T. F., & Rahayu, E. S. (2006). Karakteristik Yogurt Dengan Inokulum Lactobacillus yang Diisolasi Dari Makanan Fermentasi Tradisional. Agros.
Ginting, N., & Pasaribu, E. (2005). Pengaruh Temperatur Dalam Pembuatan Yoghurt dari Berbagai Jenis Susu Dengan Menggunakan Lactobacillus Bulgaricus dan Streptococcus. Journal Agribisnis Peternakan, 1.
Hafiyatunnisa, R. (2014). Skripsi Kajian Beberapa Karakteristik Yoghurt Biji Nangka Pada Berbagai Konsentrasi Susu Skim dan Starter. Universitas Padjadjaran, Jatinangor.
Handayani, Z. (2017). Uji Organoleptik dan Kadar Glukosa Yoghurt Kulit Semangka dengan Substitusi Pemanis Sukrosadan Ekstrak Daun Stevia (Stevia rebaudiana). URECOL, 147–156.
Krisnaningsih, A. T. N., & Efendi, A. (2015). Pengaruh Penggunaan Level Susu Skim dan Masa Inkubasi Pada Suhu Ruang Terhadap pH dan Organoleptik. FPMIPA Jember, ISSN 2086-.
Lestari, N. P. A., Dewanti-Hariyadi, R., & Desnilasari, D. (2011). Formulation of Synbiotic Yoghurt Made With Banana Puree and Inulin. Institut Pertanian Bogor.
Miwada, I. N. S., Lindawati, S. A., & Tatang, W. (2006). Tingkat Efektivitas "Starter†Bakteri Asam Laktat Pada Proses Fermentasi Laktosa Susu. Journal of the Indonesian Tropical Animal Agriculture, 31(1), 1–4.
Muchtadi, D. (2013). Prinsip Teknologi Pangan Sumber Protein. Bandung: Alfabeta, CV.
Pertiwi, W. A., & Noer, E. R. (2014). Pengaruh Pemberian Jus Buah Naga Merah (Hylocereus polyrhizus) Terhadap Kadar HDL Pria Dislipidemia. Journal of Nutrition College, 3, 706–714.
Purbasari, A., Pramono, Y. B., & Muhammad, B. (2014). Nilai pH , Kekentalan , Citarasa Asam , dan Kesukaan pada Susu Fermentasi dengan Perisa Alami Jambu Air ( Syzygium sp ). Jurnal Aplikasi Teknologi Pangan, 3(4), 174–177.
Septiani dkk. (2013). Pengaruh Penambahan Susu Skim Pada Proses Pembuatan Frozen Yoghurt Yang Berbahan Dasar Whey Terhadap Total Asam, pH, dan Jumlah Bakteri Asam Laktat. Animal Agriculture Journal, 2(1), 225–231.
Sintasari, R. A. (2014). Pengaruh Penambahan Konsentrasi Susu Skim dan Sukrosa Terhadap Karakteristik Minuman Probiotik Sari Beras Merah. Jurnal Pangan Dan Agroindustri, 2(3), 65–75.
Stone, H., & Sidel, J. L. (2012). Sensory Evaluation Practices: Food and Science Technology Series. 2nd Edition. San Diego: California. Academic Press Inc.
Sunarlim, R., & Setiyanto, H. (2008). Pengaruh Kombinasi Lactobacillus acidophilus Dengan Starter Yoghurt (Lactobacillus bulgaricus dan Streptococcus thermophilus) Terhadap Mutu Susu Fermentasi. Seminar Nasional Teknologi Peternakan Dan Veteriner.
Surayah, A., & Sugiarto. (2005). Uji kimiawi dan organoleptik sebagai uji mutu yoghurt. Prosiding Temu Teknis Nasional Tenaga Fungsional Pertanian, 108–113.
Widodo. (2003). Bioteknologi Industri Susu. Depok, Jawa Barat: Lacticia Press.
Winarno, F. G., & Fernandez, I. E. (2007). Susu dan Produk Fermentasinya. Bogor: M-Brio Press.
Wybraniec, S., Nowak-Wydra, B., Mitka, K., Kowalski, P., & Mizrahi, Y. (2007). Minor Betalains In Fruits of Hylocereus Species. Phytochemistry, (68: 251-259).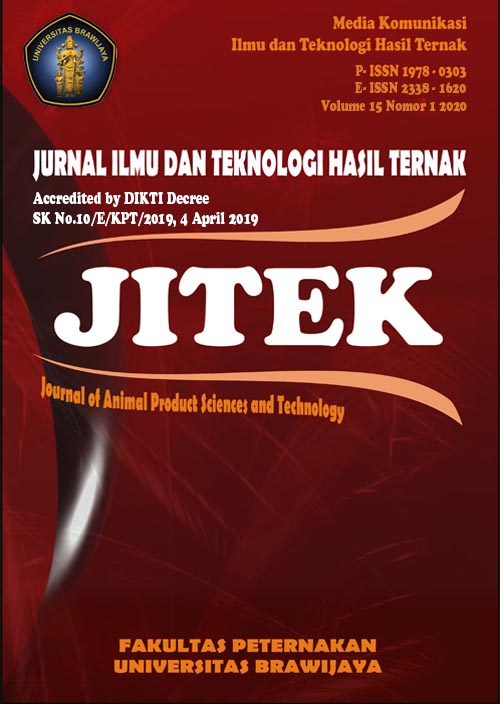 Downloads
License
Copyright (c) 2020 Asterias Hafiizha, Indira Lanti Kayaputri, Tensiska Tensiska, Nur Risma Amalia
This work is licensed under a Creative Commons Attribution 4.0 International License.
Authors who publish with this journal agree to the following terms:


Authors retain copyright and grant the journal right of first publication with the work simultaneously licensed under a Creative Commons Attribution License that allows others to share the work with an acknowledgement of the work's authorship and initial publication in this journal.
Authors are able to enter into separate, additional contractual arrangements for the non-exclusive distribution of the journal's published version of the work (e.g., post it to an institutional repository or publish it in a book), with an acknowledgement of its initial publication in this journal.
Authors are permitted and encouraged to post their work online (e.g., in institutional repositories or on their website) prior to and during the submission process, as it can lead to productive exchanges, as well as earlier and greater citation of published work (See The Effect of Open Access).