Amino Acid Profile, Group of Functional and Molecular Weight Distribution of Goat Skin Gelatin That Produced Through Acid Process
Abstract
Gelatin is a product of hydrolysis of collagen protein from animals that are partially processed.  Gelatin used in food and non food industries.  Gelatin is produced when many import of raw skins and bones of pigs and cows.  Goat skins potential as a raw material substitution that still doubt its halal. Process production of gelatin determine the properties of gelatin. The objectives of this research were to determine amino acid profile, group of functional and molecular weight distribution of gelatin made from goat skins which was produced through a process of acid. The skin of male Bligon goat, 1.5 to 2.5 year old was used as raw materials. Process production of gelatin was using acid type acetic acid (CH3COOH 0.5 M) (v/v) as curing material. The experimental design applied in this study and commercial gelatin was used as control. The results showed that gelatin produced from goat skin through the process of acid had properties identical with commercial gelatin. It can be concluded that the gelatin has the potential substitute product of commercial gelatin.
Keywords: collagen, gelatin, goat skin, curing, acid process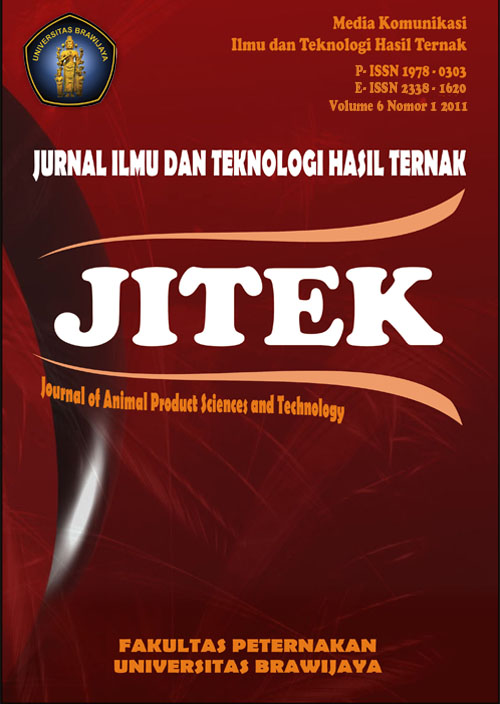 Downloads
License
Copyright (c) 2012 Muhammad Irfan Said, Suharjono Triatmojo, Yuny Erwanto, Achmad Fudholi
This work is licensed under a Creative Commons Attribution 4.0 International License.
Authors who publish with this journal agree to the following terms:


Authors retain copyright and grant the journal right of first publication with the work simultaneously licensed under a Creative Commons Attribution License that allows others to share the work with an acknowledgement of the work's authorship and initial publication in this journal.
Authors are able to enter into separate, additional contractual arrangements for the non-exclusive distribution of the journal's published version of the work (e.g., post it to an institutional repository or publish it in a book), with an acknowledgement of its initial publication in this journal.
Authors are permitted and encouraged to post their work online (e.g., in institutional repositories or on their website) prior to and during the submission process, as it can lead to productive exchanges, as well as earlier and greater citation of published work (See The Effect of Open Access).