The Effect of Tallow As Lipase Inducer on Total of Aspergillus Niger, Lipolitic Activity and Lipase Yield
Abstract
The objectives of this research was to determined of tallow addition with different concentration as lipase Aspergillus niger inducer to total of A. niger, lipolitic activity and lipase yield. The result showed that tallow addition as inducer in the lipase A. niger production gave no significant effect on total of A. niger (5.3 x 107 – 1.7 x 108 cfu/gram) in the medium. Tallow addition gave a highly significant effect on lipolytic activity and yield of lipase A. niger. Lipolytic activity ranged between 32.0354 – 53.1197 U/mg protein, while the yield of lipase was 6.6418–7.8941 µg/ml. The conclusion of this research was the addition of tallow for 8% as the lipase inducer of A. niger on lipase production was  more effective to obtain the optimal result.
Keywords : Tallow, lipase, inducer, Aspergillus niger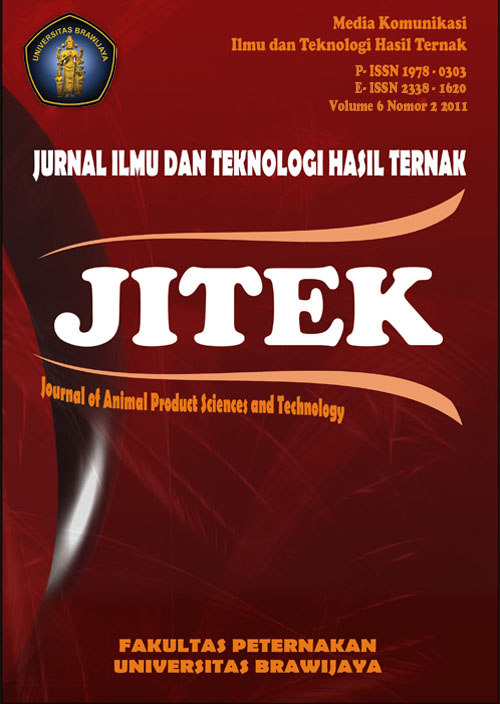 Downloads
License
Authors who publish with this journal agree to the following terms:
Authors retain copyright and grant the journal right of first publication with the work simultaneously licensed under a Creative Commons Attribution License that allows others to share the work with an acknowledgement of the work's authorship and initial publication in this journal.
Authors are able to enter into separate, additional contractual arrangements for the non-exclusive distribution of the journal's published version of the work (e.g., post it to an institutional repository or publish it in a book), with an acknowledgement of its initial publication in this journal.
Authors are permitted and encouraged to post their work online (e.g., in institutional repositories or on their website) prior to and during the submission process, as it can lead to productive exchanges, as well as earlier and greater citation of published work (See The Effect of Open Access).